Building Castle Crashers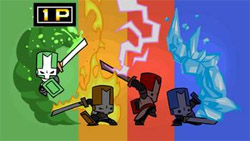 recent study by Parks Associates, "despite the growing popularity of YouTube, MySpace, and Facebook, gaming remains the king of online entertainment, driven largely by casual gaming activities." And the majority of these online games are produced in Flash. Just browse the king of game sites – MiniClip. Their library is almost entirely Flash-based.
The gang at The Behemoth knows a thing or two about this phenomenon. Founders John Baez, Dan Paladin and Tom Fulp saw the immense success (10 million downloads) of Alien Hominid at Fulp's site Newgrounds.com, and spun off a popular platform version. Their next conquest is a platform side-scroller called Castle Crashers, a game set for release this year on Xbox Live Arcade. Like Alien Hominid, a great deal of the game's production is being produced in Flash.
While we await the official launch date, The Behemoth has tempted us with this environment design video. Dan Paladin is at the wheel. You know his work on Dad 'n Me and Synj vs. Horrid.
And for those not familiar with Castle Crashers, here's the trailer: