Adult Swim Tunes Into City Suckers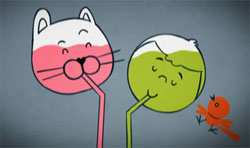 Ghostly International have teamed up to bring 19 free downloads to the web. The first and last track of this compilition were then animated in a video called City Suckers staring BoyCatBird, which was directed by Jessica Milazzo and Daniel Garcia. Backgrounds were done by Liz Artinian, and the Flash animation team included Chris Siemasko, Nick Bertonazzi, Dan Forgione, Dave Haines and Anne Witbeck.
[link] – see the video link in the lower right column
Related Posts
September 3, 2014

by

aaron

Mike Carlo's new Adult Swim bumper will make your stomach turn, and that's the whole idea. Just try to get this vision out of your …

The pilot for the new Adult Swim series Mr. Pickles somehow welds together the 1950s TV series Lassie with the ultra-gore insanity from Super Jail. …

Aqua TV Show Show, the latest title of the project formerly known as Aqua Teen Hunger Force, returned this past weekend for a tenth season. …

September 14, 2011

by

aaron

On October 2nd, Adult Swim will reveal their latest animated series, Brad Neely's China, IL, which has an 10 episode pick-up. Titmouse, Inc is handling …
There are no comments yet, add one below.