Radiohead/Aniboom Contest Interview with M. Wartella

In October of 2007, CHF featured M. Wartella's psychedelic music video for The Go's track You Go Bangin' On. He joins us today for a very insightful interview into his process, his past music videos and his recent work on Adult Swim's upcoming series Superjail.
AARON SIMPSON: How did the You Go Bangin' On music video land on your plate?
M. WARTELLA: Well, we've been friends with and following The Go since their Sub Pop days. We try to catch their shows when they come through town (New York City), you know, hang out, drink their beer, and over the years we've just kind of become friends. Since they were looking to do something different for their latest record, they asked me to do the album art. Of course, as soon as I heard the new tracks, I was happy to oblige because I think this is their best release to date, and the critics seem to agree so far. But basically, the band decided they wanted to have an animated music video too, so that is how it came about.
AARON: Did you "pitch" your animation concept to the band before starting?
M. WARTELLA: At first, we wanted the whole video to be animated, kind of like a Yellow Submarine or Josie & The Pussycats thing where the band is drawn as cartoon characters. But as I started thinking more about it, I realized that most people, especially the band's fans, would probably want to see real pictures of the group, not my drawings.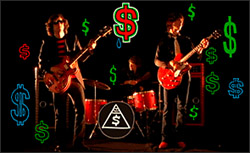 Terry Gilliam/Monty Python paper cut-out approach. Of course, I realized that this was going to involve a photo shoot, and once I knew we were gonna have to do a shoot, I decided that we should just film the band "live" against a black backdrop, and then superimpose a "psych-out" style animation on top of them, like an old Jefferson Airplane or The Strawberry Alarm Clock type thing (below).
AARON: Explain the process behind creating the video.
M. WARTELLA: Well, we shot all the live footage last July 4th out in Williamsburg, when the band was swinging through New York on tour. Lighting is key to getting good video footage, so we really took our time and set it up right and we used the biggest, hottest lights we could get. Since this was a real low-budget thing, I went down to Chinatown and had a huge black felt backdrop made.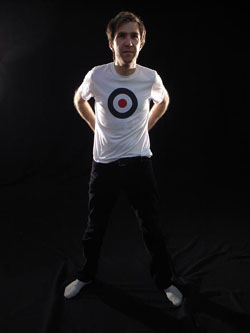 M. Wartella on the stage of the
You Go Bangin' On shoot
M. WARTELLA: I think that would have to be a case by case basis, and it would depend on what you were trying to accomplish with your video. With The Go, some of the lines I decided to illustrate in a very literal way, but it is almost impossible to do that for every line. So that is where the artist's own sensibilities come into play, and hopefully your style jives up with that of the band.
AARON: When compared to a traditional narrative short, is the storytelling process different for a music video?
M. WARTELLA: I think the secret to a good music video is the constant build. You always have to be out-doing yourself, and that is the approach I took with You Go Bangin' On.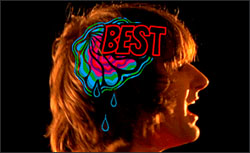 Arthur magazine lately, and doing packaging is creatively a lot of fun given the right project, but animation and video is definitely where I have my sights set. It's a medium that can be amazingly captivating — especially when music is involved — and now with the web finally at that level where the average joe can download a clip in real time, I think we are at an unprecedented point in it's history.
AARON: You've been working as a professional artist since the early 90s. When did you make the digital transition?
M. WARTELLA: Well, I've actually been working as a published artist since the 80s! When I was a kid, about ten years old, I sold my first weekly comic strip to a small local newspaper in Pennsylvania. I did that for about a year and a half — never missed a deadline either! So that was my first taste of cartooning and getting a little of that recognition of having your friends see your work in print. By the time I was in college in the early to mid 90s, I started doing stuff for campus publications, and eventually started a daily comic strip called Ackxhpaez. That in turn got picked up by the editor of the alt-weekly paper in town, who had come across some of my work and hired me to do weekly strips for them. By the time I moved to New York and really started working "professionally", I already had a good portfolio together and it all grew from there.
My first computer was a Commodore 64 in the 80s, but my art was limited to making little sprite-type animations or the equivalent of ASCII text drawings. Around 1994, I started working on a Mac, and did a few crude animations using their old HyperCard program. Then Macromedia came out with Director and Shockwave which was great. I had no official animation training, but I just kind of intuitively started picking it up. The final key was being introduced on a job to the Wacom on-screen drawing tablets, I call 'em "digitizer pads". This was basically like moving up to a Word Processor if you'd only ever used an old typewriter. It just made digitizing your art so much easier and I still use the Wacom screen tablet to this day… nearly ten years now. Coincidently, it was on that job that I met Aaron Augenblick, who would later go on to start a full-fledged animation studio using the same technology.
AARON: The buzz on Adult Swim's Superjail is bubbling. Tell us about your experience on this new series.
M. WARTELLA: Well, Superjail is a great project and a lot of fun. Aaron Augenblick, the show's director, and Christy Karacas, the show's creator, are both really creative individuals, so the entire process was very laid-back and entertaining.
Wonder Showzen fame, who I am coincidentally working with on the Adult Swim show Xavier: Renegade Angel doing animatic storyboards.
But with Superjail, every episode would start out as a rough nugget of an idea from Christy. Aaron came up with a really cool way to work, where we'd get all the artists together and actually write the show as a group. That worked out great, everybody throwing out ideas in a roundtable environment, and that really gave me the opportunity to flourish because working with Aaron I'd always be coming up with ideas of little gags to hide in the background, or just little improvements I'd think of on the spot.
But it was a great experience to actually shape a show like Superjail because the writing is where it all starts. And with everyone all together, you just get swept up in the imagination of it all, acting out the different characters and just making jokes up off the top of your head. And I'm really into plot structures, like with movies and all, so for me, developing a script is kind of like putting a puzzle together, when to reveal what pieces of information so as to keep up the suspense or whatever. I can't say enough good things about working with those guys and the experience, really.
AARON: Do you find feedback important during the creation process?
M. WARTELLA: Feedback is extremely important for me, which is one of the most frustrating things about being a cartoonist, because there isn't that instantaneous reaction like if you were a musician or actor on stage. Oftentimes, you'll draw something and you're lucky to get a few emails about it down the line. But that's why contact is so important, and I always try to write to artists whose work I come across and like. Just a few words to an artist in an email can really create an incredible catharsis.
AARON: What is on your plate ahead? More music videos?
M. WARTELLA: Well, we are in pre-production on another music video for The Go – for a new song of their's called Puzzle People. You can imagine what the visuals on that one'll be like. I love working with bands whose music I'm into. I've been trying to talk Christy into doing one for his band Cheeseburger — you know, like with a giant claymation cheeseburger chasing the band down the street or something.
But I do think it is important to have that connection to the music… I don't think I could make a very good video for Ashlee Simpson or Josh Groban. But there are a lot of great bands and artists in New York right now, it'd be great to build on that.
I'd personally love to do a video for Awesome Color or collaborate with someone like Ryan Adams who is a cool visual artist in his own right.
AARON: Do you have a favorite animated music video?
M. WARTELLA: I have fond memories of the "Sledgehammer" video, though I'm not particularly a fan of Peter Gabriel. Or maybe "TV Dinners" by Z.Z. Top. I dunno about MC Skat Cat. What is he a scatological cat? That's dirty. I really like those bad 80s animated music movies, like Rock & Rule and Heavy Metal. And of course Fantastic Planet (below). Though that isn't technically a music video, music plays a big role in creating the feel of that film.
AARON: Anything else?
M. WARTELLA: I guess that's it. Over and out. Thank you!