Radiohead/Aniboom Contest Interview with Gabe and Jon

After challenging the conventional album distribution system last Fall, Radiohead has turned its attention to how animated music videos are produced. On March 17th, the band announced that it had teamed up with Aniboom and Adult Swim for a groundbreaking music video contest.

Make My Video competition, but when a band of Radiohead's size is paired with the connective possibilities of the internet, we're likely to see uncommon results.
Those results will arrive in 4 stages, starting with the April 27th deadline for the storyboard submission round. In this initial phase, animators, writers and other artists can submit a clip displaying their concept for a music video – using any song from Radiohead's #1 album In Rainbows. The field will be subsequently whittled down to 10 semifinalists, who will each be awarded $1,000 to make a 1-minute music video. These 10 are culled to 5 finalists, whose work is then presented to the band.
Finally, on June 30th, the winner will receive $10,000 to make a full version of their video (complete schedule and rules)
The 4-step process is a clever approach to the ever popular world of user-generated content, or UGC. It lowers the bar for entry, allowing artists to dip a toe into the contest without committing a month of their life to a submission that may not even make the finals. It's actually an analog of the traditional method employed at major animation studios: concepts are presented, a rough pass is produced and then the final work is revealed to scrutinizing executives. Only here, the "executives" are one of the coolest bands in the world.
best music videos of all time, and another three, Fake Plastic Trees, Karma Police and Street Spirit (Fade Out), have received similar acclaim. Their music videos are simply legendary. It's enough pressure to make an animator freeze up in fear.

So to help get the ball rolling, Aniboom partnered with the dynamic animation duo comprised of Jon M. Gibson and Gabe Swarr. The two were tapped to create a promotional and inspirational animated short (below) which would accompany the contest announcement.
You may know Gibson from i am 8-bit, the video game themed art exhibit that has now spawned a popular book, but he's also a sought-after screenwriter for studios like Disney and Nickelodeon.
Swarr's resume goes back to Spumco, where he helped pioneer the online Flash animation movement, but he has since made a name for himself as a director and storyboard artist on animated TV series like El Tigre: The Adventures of Manny Rivera. The two have been collaborating for years now, but this is by far their biggest experiment. Over a million online views later, the two have to be pleased with how their promo short turned out, but let's take a look at how that all came together.
Both Gabe and Jon joined CHF in an interview – the first in a lengthy series of Aniboom/Radiohead pieces we'll be revealing over the next few months.
AARON SIMPSON: Gabe, you mentioned on your blog that this piece deviates from your natural style. Did you draw from any sources to discover this new look?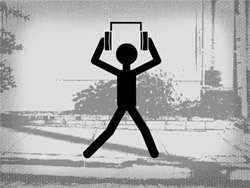 Information Graphics filled with diagrams and maps and instructions. In there was a really cool looking medical diagram of how to use an ICU. That mixed with some subway maps, and some cool textures I came across and the look was born.
AARON: So much of your work is in the comedic direction, was it refreshing to "play it straight" on this one?
GABE: This one was like a giant experiment. I always like to try new things, but a lot of times, they are just too crazy. I remember I sat down with Matt Gadbois (our expert After Effects compositor), and explained what I wanted to do and he just couldn't figure it out. Maybe I just didn't explain it too well.
The whole thing was a big gamble. We were on a VERY compressed schedule and to try this many new things at once was a formula for disaster… but we did it. If we had more time, I would have done a lot more in 3D. But I had to restrict it for the time allowed.
AARON: The video seems like a heavily stylized metaphor for the contest – idea, creation and distribution. Was that your vision?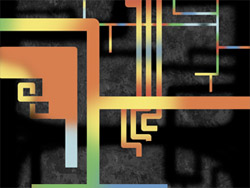 lyrics to Bodysnatchers hint at being trapped inside one's own body. Did you lean on any of the song's lyrics for inspiration?
GABE: It kinda fell together actually. The concept came first and then I heard Bodysnatchers. It was a natural fit for the idea. The song drove everything from the look, the feel, and especially the timing. I broke down the lyrics, tempo, and the beats, and then tracked everything to that. In my opinion, all the best music videos are made that way.
I have to say, I love doing music videos. I would never pass up a chance to do one. They are so much fun to visually represent something completely non-visual. I had the same approach when I did the i am 8-bit opening (below) and Fuck Her Gently for Tenacious D.
AARON: Did you create an animatic before diving in?
GABE: Of course, they are deadly essential and I never work without them.
Gabe's animatic
[MEDIA=56]
AARON: And what decisions are made during the animatic phase?
GABE: Usually there are very few changes from storyboard to animatic, but this time I got a good chunk done and started the animatic right away. After it started coming together, I went back and boarded the rest and then finished the animatic. The board and animatic were both done in a day. A very long day.
AARON: I'm guessing that wasn't the only long day – it looks like some elaborate masking was employed in this video. Was that all produced in Flash?
GABE: Yes, some crazy tedious masking went into this one. I did all the animation in Flash. Every shot was then composited in After Effects, like the process used on El Tigre.
AARON: With so much directing lately at Nickelodeon, do you get to animate much anymore?
GABE: Well, I've been recruited to do a lot of the Flash animation fixes for El Tigre. I'm slowly getting back up to speed. I love to animate, I think it's one of the most rewarding parts, but the setup and prep work in Flash takes so stinking long.
AARON: Is this tedious process something you see technology fixing down the road, or is it just the nature of building digital art?
GABE: I think with the new parenting function of the new Flash might help, but I think it's just the nature of the beast. If you want to keep everything really efficient and well organized, it takes some time to set it up right.
AARON: What's it like collaborating with Jon?
GABE: I love working for Jon because he really trusts me. He leaves me alone to get stuff done, which is the best kind of Producer. I've had so many experiences where I spent more time explaining things than the actual time it took to finish those things. He's really good at dealing with the client too. Jon does all the back and forth and I don't have to deal with it.
I think it's kinda the same working relationship that William Hanna and Joe Barbera had. Joe would go out and take meetings, pitch and sell, and Bill would sit at the studio and run it. It worked for them for decades.
One more amazing thing about Jon is that anyone that knows him, knows that when he comes up with an idea to do something, usually it's happening within a week if its conception. There's something not right about that boy. He must have made a deal with the devil. Well, at least that's one client Jon can deal with by himself.
AARON: Speaking of Jon, let's turn our attention to Mr. Gibson. I'm going to start with a non-question. This is a pretty incredible opportunity for an animator…
JON M. GIBSON: I'd like to start with the opposite of a non-question: How sick are you of people saying you got into animation because you have the last name Simpson?
AARON: It was either cartoons or pop songs, but Jessica won't return my calls. Back to the question – opportunities like this don't come along every day; can you put this one in perspective amidst all the other online UGC projects out there?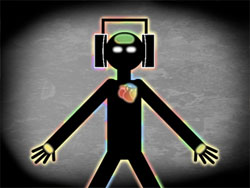 Jorge Gutierrez, the ridiculously multi-talented co-creator of El Tigre, not nearly as "big a fan" as he is. We had to come to terms with this before accepting the project — because we knew if we disappointed Jorge with this particular video, our fate would feel something like drowning in a bathtub filled with tequila.
But, dude — of course. What's the point of having your own studio if you can't work of stuff you actually want to work on? Gabe and I vowed from the very beginning to only take on projects that we had a passion for. Sure, sometimes we don't like something outright, but our gut says there's something cool about it. Your gut's usually always right. It's like when you see a girl and there's just that "thing" that attracts you to her, but you can't… quite… put your finger on it.
I feel like I drifted from the question a bit. So, anyway… Karma Police was heard on many carpools to high school my sophomore year. My buddy Pat did dig the Radiohead quite a bit. Made those cold Michigan mornings a bit more tolerable, 'cause he had holes rusted through almost every inch of his car. That sucked. But I gotta say — "Optimistic" from Kid A is my favorite Radiohead song. It's one of those songs where I get so caught up in the music that I could never actually recite the lyrics for you — it's got such a fucking fantastic mood.
AARON: Any word from Jorge? He must have seen the video by now.
JON: This is why I love Jorge — he deliberately issues "challenges" of sorts. He knows exactly how my brain works, as well as Gabe's. He knows that if he prods us a little we will strive that much harder to impress the hell out of him. He did that to me in 2004 when I said I wanted to do an art show about 80's videogames called i am 8-bit. He said I was biting off a lot more than I could chew. And everything he said was right — it was hard as hell — but because he said that, I wanted to do it more. Same thing with the Ralph Bakshi book. A lot of people said we (my co-author Chris McD) were crazy — that we'd probably start but never finish. No one else was stepping up to the plate, and we knew the book had to exist. To have the privilege of chronicling someone's legacy — that's motivation enough.
At the same time, I really like to see how close friends react to any project. Whether it's writing a book or a script or showing off a finished video like this — whether the reaction is good or bad — your close friends are the only ones that are going to be totally honest.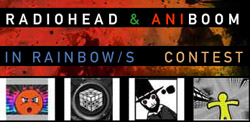 In Rainbows?
JON: Yeah, we had carte blanche of any track from the album, and Bodysnatchers was an instant standout. It has energy — a pulse. And if you listen closely to the lyrics, everything syncs amazingly well to the visuals. But that's also the awesome thing about this Aniboom contest — anyone who enters is given the same choice of any track. That makes judging exponentially more difficult, but that's the fun of it, right? — seeing how varied the results will be. It's always cool to see how hundreds of different artists interpret something. No single idea is God.
AARON: What kind of turn-around time were you looking at for this kickoff piece?
JON: Well, we had a lot less time to complete our video than everyone else entering the contest will have. It was a rodeo of a schedule — about two weeks. That meant a lot of late nights, but the response we've gotten has made it so worth it. Though, none of us would ever recommend this tight a schedule for any production. It hurts. You sweat. It's always nice to sit back, put something away, and get a chance to breathe. When you look at it again, it's with fresh eyes — and a fresh perspective.
This is often times a luxury that just isn't realistic in the production pipeline, but as an artist, you should always try to take that breath. And man, it's all about having a killer crew. Gabe and I just work naturally well together, and special props must be given to the brilliant Matt Gadbois for headlining the heavy After Effects work.
AARON: Can you point out which elements in the video were built by Matt?
GABE: Every camera move and transition was recreated and perfected in After Effects by Matt. At one point, he didn't like the way it was turning out so he gutted the whole setup and re-did the entire first half. He's great! I love to work with perfectionists that aren't crippled by their own obsessions.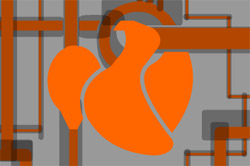 Dave Wasson, and so on.
AARON: Was the band involved in any of the creative details of your video?
JON: The band had total concept approval, but gave us complete freedom to explore that concept. Gabe came up with a really cool way to visualize the idea of how an artist might be inspired by music.