Radiohead/Aniboom Interview with James Reitano

A little over a year ago, we featured James Reitano's brilliant music video for Cut Chemist's single Spat. He's now joining us for a Radiohead/Aniboom Contest interview.

Cut Chemist?
JAMES REITANO: I actually wanted to make an educational video with Jurassic 5, kind of a Schoolhouse Rap thing. Luke had seen the All Caps video, and wanted one for his upcoming solo record. After a failed start in early 2005, we revived the idea in spring of '06, and got it going.
AARON: How did this string of animated music videos all come about?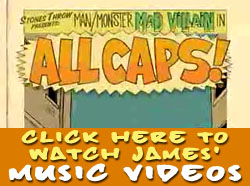 KutMasta Kurt talked me into doing an animated video for his Masters Of Illusion LP with Kool Keith. I had never taken on 3 minutes of animation before, so I was hesitant. Kurt kept assuring me that it was doable and we wrapped it up in 2 months, and the reception was really good. From there, Biz Markie asked for one, and, the ball just got rolling. And I also have a deep love for music, so it's kind of not too surprising that I'd be involved in one way or another.

AARON: Are there any tricks to producing a music video?
JAMES: The biggest trick is asking the client to give you a chunk of money. Once you have that commitment from someone, the trick is making yourself a hard schedule and sticking to it.
AARON: Do you feel constrained to the narrative embodied in the lyrics?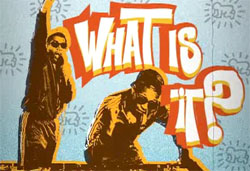 MTV's viewership in decline, and TV viewing of music videos at an all-time low, why (and where) are music videos still important?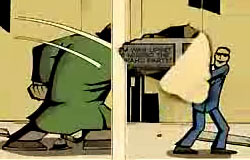 Michel Gondry) can turn the video into an ad for himself as much as it is for the band.
AARON: Do you have a favorite animated music video?
JAMES: There's so many, but one of the first I ever saw was Rocky Morton and Annabel Jankel's video for Tom Tom Club's Genius Of Love (which is based on James Rizzi's pop art work). This really captures the song as well as the bands whole aesthetic.
[MEDIA=60]
AARON: What are you currently work on?
JAMES: Right now we just finished up a video for Manchester Orchestra which is in the approval process. The biggest thing is an upcoming graphic novel for Wu-Tang's GZA which I'm writing and illustrating.