Radiohead/Aniboom Interview with Tom Neely

We were already impressed. Tom Neely didn't need to go become an award-winning graphic novelist, or launch an amazing gallery show. His self-published graphic novel The Blot was received with an abundance of rave reviews, and his gallery show at the Black Maria Gallery was packed with 34 new paintings and scores of people at the opening. But now we're more impressed.
Before all that, Neely wowed us with his film Brother, Can You Spare a Job?, which resulted from the success of his entry into the 2003 Bush in 30 Seconds contest, where he placed as one of 4 finalists in the Animation category. His follow-up was an eye-popping music video for the band The Muffs – again in the Fleisher-style. In this Radiohead Contest interview below, Neely details the production of this video as well several other projects he has his fingers in now.
AARON: Why are music videos often so "experimental?"
TOM: I guess there's just more freedom because it's film done on a small scale with fewer people involved. I think that's the best way to get really creative ideas made. Music often lends itself to more abstract ideas, so experimental visuals work well with that. It's more accessible for a short video to be abstract or experimental for some audiences because the music gives them an anchor to help understand the film. Looking at music videos on TV these days, I think we need a lot more experimentation to come up with some better ideas.
AARON: How is the process of directing a music video different from other animated work you've directed?
TOM: Well, I've only really done 2 cartoons. Stylistically, my two cartoons are very similar, but the differences between The Muffs video and Brother, Can You Spare a Job? were pretty significant. For Brother… I animated the whole story without sound.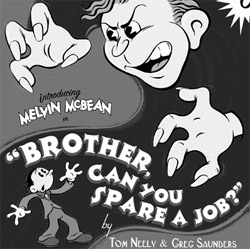 Greg (co-writer on this cartoon) picked out a lot of music that he thought would fit. In many cases we were amazed that some musical cues just fell right in place perfectly. Others had to be edited, or the animation would be tweaked to fit a little better. With the music video, the music came first and was the inspiration for much of it. When I heard the opening chords of Don't Pick On Me I immediately saw the opening scene of the Villain tying Kim to the tracks while a train was chugging along in time with the music. The whole idea came to me pretty easily the first time I heard the song. Brother… was my first cartoon, and the animation is much more limited and relies heavily on Flash tweens and symbols. I think I made some significant improvements when I did The Muffs video. But looking back at it a few years later, it looks a little too "Flashy" to me… Not that there's anything wrong with Flash, but when you're using it to make something that looks more like old animation, the limitations become obvious.

The Muffs – Don't Pick on Me
[MEDIA=66]
AARON: So what work-arounds did you employ to make Flash work for you?
TOM: Flash has a lot of limitations, and I think I found every one of them while working on this cartoon. But the one thing that I think Flash does well is working with that rubber-hose style. For many of the arms and legs of the characters in my Muffs video, I would draw with the stroke set to 5 or 6 and then animate those parts directly in Flash by drawing with the pencil tool. After animating a full sequence of rubber-hose arms, I'd then select all of those strokes, convert lines to fill, color them, and then add a black outline stroke around the new shapes. Some of them would have to be re-drawn in the end, but the stroke tool works pretty well for rubber-hose animation.
AARON SIMPSON: For your Don't Pick On Me music video, what reference animation inspired you?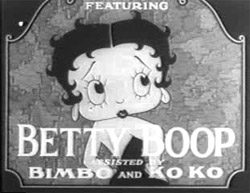 Rise Above – 2007 print by Tom Neely
from his show at the Black Maria Gallery
TOM: I take a lot of long walks around my neighborhood when I'm working out story ideas. Just me, my dog and my iPod and I'll just wander around the streets thinking about how to work out my stories. Once I figure out the problems, I go home, sit in my back yard with a pot of tea and write/sketch out my ideas in a sketchbook.
AARON: Once those ideas are in motion, do you find feedback important?
TOM: It can help sometimes, but often I find it more of a hindrance. Everyone brings their own ideas to the table, so anyone who looks at your art will give you advice based on how they would do something. I usually find it more frustrating than helpful. When I'm working on more personal work, like my comics or painting, I don't really show anyone until I'm done, or near done. I don't like to have anyone else's voice in my head while I'm working on my own art. I always think about something Philip Guston once said about this:
(paraphrasing) When I first come into the studio to work, there is this noisy crowd which follows me there including all of the important painters in history, all my contemporaries, all the art critics. One by one they all leave. Eventually all of them will disappear. Then even I leave the room and then I can begin to paint.
When I have a problem that needs some outside opinion, I have a few close friends who are artists that I trust to give me good advice. But for the most part, I prefer to finish a project, then hear the critiques and learn from mistakes that I find in the finished work. Otherwise, too much outsider interference can really slow down or destroy my creative process.
AARON: Do you have a favorite animated music video?
TOM: Hmmm… I don't know if I have a favorite. Off the top of my head a few pop into mind – that new Bjork video (Wanderlust) is pretty cool. That White Stripes video that was animated with Legos is really cool. Monkmus has done some good ones. I like all the Gorillaz stuff. I really like some of Steve Woloshen's abstract scratch-film animations. He did one to a Hendrix song (Curse of the Voodoo Child) that would sort of count as a music video. I haven't really kept up with some of that recently. Some of the best animated "music videos" were done back when Louis Armstrong or Cab Calloway lent their songs and voices to Betty Boop cartoons.
Snow White (1933) Cab Calloway singing St. James Infirmary
Betty Boop film directed by Dave Fleisher, animation by Roland Crandall

AARON: Your graphic novel The Blot was well received last year. Do you have another one on the way? Any more animation in your future plans?
TOM: Yeah, it's been doing really well. I won an Ignatz Award, got a lot of good reviews, and ended up on several "Best of 2007″ lists in the comics journalism world. It's a self published book and it's been a lot of work to get it out there, but it's doing well so far. I'm happy with it.
As for current projects in comics: I'm working on a comic book that will be a part of a box set by the band The Melvins. I've always loved the Melvins, so it's been a lot of fun. The box set is a limited edition vinyl release of their album A Senile Animal that will come out from Hydra Head Records later this summer. Many of the song titles for that album were things like The Blood Witch and A Talking Horse which made it easy to come up with an interesting cast of characters. The story doesn't follow the lyrics of the album, but their lyrics are pretty surreal and nonsensical anyway. I'm using that surrealism as the inspiration to write my own story with these characters. It's sort of like a comic-book music video for the whole album (you can see the first 6 pages on my blog). I'm also writing my next graphic novel, but that's still in the early stages and I don't know when I'll be done with it. And I've been posting weekly "comic strip poems" on my blog every Wednesday. It's funny to me that everyone keeps telling me that my comic strips are depressing.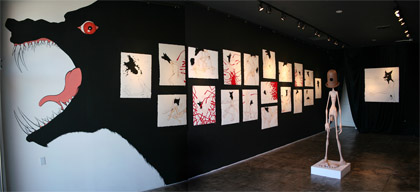 The layout for Tom Neely's 2007 show, Self Indulgent Werewolf, at the Black Maria Gallery
In animation, I've been doing a lot of freelance work for Disney. If you've seen the "my pets" thing on their Game Kingdom website (must be a paid member to view), I created and animated all the hybrid-animal pets that you can "adopt." Apparently it's the most popular thing on their site and they're thinking of making toys of the characters that I designed. Someday I'll wake up and see them on Saturday morning cartoons and I won't see a dime from it – ha ha! I've also done a little bit of background clean-up work on the new Kids'WB! series The Spectacular Spider-Man.
I'm helping my friend Levon Jihanian on an animated short that he has created. It's sort of an Adult-Swim-ish cartoon based on his Giraffe Death Force characters. He is doing all the key art and backgrounds while I'm animating it for him in Flash. It will be very limited animation in the style similar to the old Johnny Quest cartoons. And lastly, I'm doing a little animated intro to a friend's independent film that involves two platypus characters and a bong.
So, I'm still doing lots of Flash animation every day for freelance work, but I don't have any of my own animation projects on the horizon. I'd like to do more of my own animation someday, but lately I find myself wanting to get away from the computer and just going to the drawing board to pursue my more personal work in comics and painting. But there are ideas in the back of my head for cartoons that I will hopefully get around to someday.