French Duo Saw What Was Possible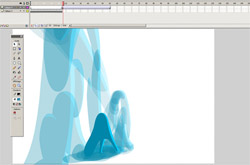 wrote about Cut&Paste's See What's Possible Challenge, sponsored by Adobe, which featured several shorts animated in Flash. I somehow missed this one, titled Living Colorforms, which was designed and animated by Claude William Trebutien (Burning Safari). It should come as no surprise that Trebutien is a Gobelins graduate, and the art direction was provided by Baeyens Michael, who attended ESRA in Paris.
Head over to to the TroisCube website to see how they created the short, a process that also involved After Effects.
Related Posts
January 28, 2013

by

aaron

I somehow missed this when it came out last Fall, but it's a really compelling proposition to the Flash folks at Adobe. Anyone else feel …

September 17, 2012

by

aaron

Pedro Vergani's latest creation from his studies at Gobelins is a Flash-animated PSA for the Cartooning For Peace project. It's titled Earth Day, and it …

Russian-native Nadya Mira is currently attending Gobelins in Paris, and working Flash into her bag of tricks. This 12-second clip, titled Rocketman, shows great promise.

by Aaron Simpson and Sean McKenzie Whether or not Apple allows Flash on the iPhone doesn't really effect us animators. Our Flash animations are enjoyed …