Two Studios Team Up For Three Delivery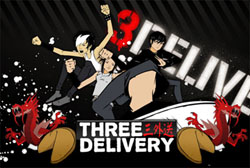 Animation Collective and Fatkat Studios have teamed up to deliver a new Flash-animated series for Nicktoons Network. The 26-episode order of Three Delivery premieres this Friday at 7:30, and it's also slated for YTV and the BBC.
The show, which features 3 Kung-Fu teens who deliver fresh food and fists of fury, features a traditionally animated look, which isn't the common approach for TV series produced in Flash.
Here's short clip from an episode:
These clips below are selected action and effect shots from the production, animated by folks like Jon Lambe, Melanie Albert, Matt Taylor, Jeff Davis and Neven Nesic, and overseen by Robert Keith Anderson, one of the animation supervisors.
[MYPLAYLIST=12]
Click on the thumbnails below so see some background layouts from the series production:

Lastly, let's hear from some of the artists and production staff who worked out of the Miramichi-based studio:
It's a rare occurrence to be able to animate in a traditional style in Canada in a Flash environment, and I find that it forces me to apply all the art and animation techniques I've learned over the years.
-Tavis Silbernagel – Director, Three Delivery, Fatkat

Anything worth doing in life is hard and this show is no exception. Long days, cold nights, the hard but worthwhile fights. At the end of the day it all comes together with final picture and sound and you pick yourself up off of the dirty floor and shake off the discarded candy wrappers that you used as a blanket and say, "yes, that's the show we wanted to make."
-Robbie Anderson – VP of Production, Fatkat

Three Delivery has been one of the best opportunities I've had in the animation business to do something truly different. The characters are believable and easy to sympathize with and the artwork doesn't follow the usual rules of geometric shapes and bright colors.
-Alan Foreman, Art Director, Three Delivery, Animation Collective

Three Delivery is proof that you can traditionally animate an entire long format series in flash, and that you can do it here in North America with studios like AC and Fatkat.
-Gene Fowler, President, Fatkat