Campion Off to Comic-con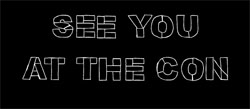 short Flash animation, which you can see over at his website.
I'm also heading down today as well, and if anyone wants to meet up, I'll be attending the Making Fiends panel at 5pm on Friday in room Room 7AB. I'll be wearing my trusty brown CHF tshirt and sitting in the back right of the room. See you in San Diego!
[link]
Related Posts
You'll wish Amy Winfrey's April Fools upload to YouTube wasn't a joke. It's called Baking Beans, an apparent "spin off" from her web-series-turned-Nickelodeon-show Making Fiends. …

Pascal Campion, an animator who we've featured here a number of time on ColdHardFlash, is the subject of this documentary short, titled Inspirational Artists: Pascal …

November 4, 2009

by

aaron

Following up on his 2008 project for the alternative rock duo know as They Might Be Giants, Pascal Campion has created a new music video. …

Well, another San Diego Comic-Con is upon us. I am driving down the coast here in a few hours to hit preview night, and I'll …
There are no comments yet, add one below.