Inventive Davy Crockett Video By Tiny Inventions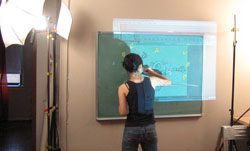 They Might Be Giants music videos in the past, but none more creative than Davy Crockett In Outer Space. This 2-minute mixed-media short, which was produced for Playhouse Disney, brings classroom walls to life in a highly inventive way, and the method behind their animation is equally as clever. The team at Tiny Inventions, which consists of Max Porter and Ru Kuwahata, projected rough Flash-animation against a chalkboard (inset) and then "cleaned-up" the sequence with actual chalk. The team was joined by David Cowles on the design and direction front.
Read more about the production process at the Tiny Inventions blog.
Related Posts
The team at Curious Media handled this new Flash-animated short for Disney, featuring emojis that tell the tale of Frozen. It's a clever format, and …

Future Cinema is a London-based theater that specializes "in creating living, breathing experiences of the cinema." They've done Ghostbusters, Shawshank Redemption, Saturday Night Fever, and …

Chris Allison (aka Toonhole Chris) is at the controls on the latest weekly animated short. Today we're treated to a deleted scene from Disney's The …

November 15, 2013

by

aaron

It's A Small World, the animated series, is soon coming to an internet near you. Based on the 50-year old Disney theme park ride, the …