World Leaders Grab Gold For Net10 Spots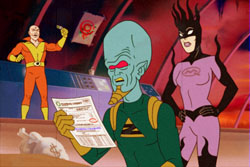 top prize at the Annie Awards, Sita Sings the Blues snagged the Best Picture award at the 32nd Annecy Animated Film Festival and now the advertising world has bestowed upon upon a Flash project. Last month, the animated Net10 campaign was awarded a Gold at the Cannes Lions – considered the top advertising festival in the world.
In honor of this moment, we present to you an interview with Mike Foran, the Executive Creative Director at World Leaders Entertainment, the studio where the Net10 campaign was produced.
AARON SIMPSON: How did you guys end up partnering with Droga5 to work on this eight spot campaign for Net10?
MIKE FORAN: Droga5 was looking for an animation studio that could tackle a retro style reminiscent of Alex Toth and 70's era Hanna Barbera superhero cartoons. Seeing that World Leaders produces The Venture Bros. for [adult swim] and that our VB artists design in a similar style, Droga5 selected us for the competitive bid. They asked us to submit a style frame, which we produced, revised, and then we offered a second style frame with even more characters. We leveraged the talent of our crew, particularly Matthew I. Jenkins, a lead VB Character Designer to create the frames that dictated which studio would win. They really liked our approach and aesthetic sensibility and awarded us the eight commercial campaign.
AARON: How long did the production last?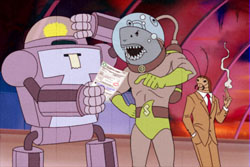 Adobe CS3 software helped in this case as the work we were doing in Flash integrated more quickly with After Effects, so we were able to save some time and increase our flexibility for changes.
AARON: How long have you been using Flash in your productions?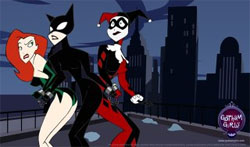 re-released on the Birds of Prey DVD) which were produced and delivered with Flash. We have used Flash in some capacity on practically every job we have ever done.
AARON: What's the best part of using Flash in a production?
MIKE: Simply put – speed. It allows us to quickly test out animation with real time playback. We have developed a fully digital production pipeline that helps us to go from storyboards, animatic, layout directly into pencil test or final animation very quickly.
AARON: What was your reaction when you heard that your campaign had won Gold Lion at Cannes Lions Advertising Festival?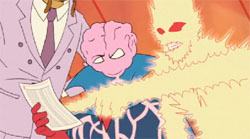 Choice Hotels, featuring their rebranding of Econo Lodge. That's really exciting because they have not advertised nationally on television in over ten years. We're also starting up production on a web PSA in collaboration with DraftFCB for City Harvest. They are a fantastic nonprofit organization that rescues perfectly good food from restaurants that would otherwise go to waste, and donates it to homeless shelters. DraftFCB's creative work on this project is great, so I am really excited to direct this spot.
AARON: What else is in the pipeline for World Leaders?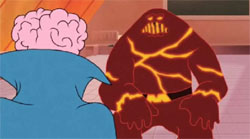 no-evil.net mini-site.