Fiends Featured In LA Weekly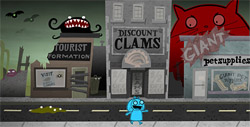 on the cover this week, but inside readers will find a famous Flash-animator. Amy Winfrey is the topic in Making Fiends: Amy Windrey's Animated Vendetta, a favorable article by Gendy Alimurung about the upcoming Nickelodeon series Making Fiends, which started out as a web series. Congrats to Winfrey on the immenent series launch – we're all pulling for you.
In related news, this same topic was posted at CartoonBrew.com last week, and I have yet to read one cross comment about Flash. Perhaps it's because few folks know the series is produced in Flash (the LA Weekly article doesn't mention Flash), but I'd like to believe that the software is starting to catch a break or two. Getting really tired of defending Flash, aren't you?
Related Posts
You'll wish Amy Winfrey's April Fools upload to YouTube wasn't a joke. It's called Baking Beans, an apparent "spin off" from her web-series-turned-Nickelodeon-show Making Fiends. …

December 2, 2014

by

aaron

Here's a series of idents that Nickelodeon commissioned for the 2014 season. They were recently nominated for an Emmy award. The team used Flash and …

September 25, 2014

by

aaron

Graham Peterson and Pedro Eboli put Flash and After FX to work on this new short for Nickelodeon. It was part of the 2013 Nickelodeon …

January 30, 2014

by

aaron

A new Flash-animated Nickelodeon show is nearly out of the oven. Breadwinners, EP'd by Steve Borst and Gary DiRaffale (aka Gary Doodles), features the vocal …