Prophet Buddy Season Wrap Party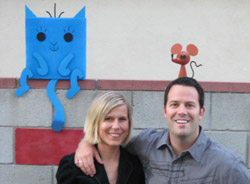 Prophet Buddy episode. Eric Pringle, the creator of the Flash-animated series, was on hand, and so were hand-crafted versions of the two stars of the show, Cat and Mouse (inset with my wife Daniela). Also attending were Eric Bauza, the voice of Cat, and party host Matt Danner, who plays Mouse. With this set of episodes behind him, Pringle says he will now reestablish a relationship with "video games, the sun, television, the gym and booze." Let's raise a toast together to Prophet Buddy, and enjoy The Greatest Idea.
Related Posts
January 30, 2014

by

aaron

A new Flash-animated Nickelodeon show is nearly out of the oven. Breadwinners, EP'd by Steve Borst and Gary DiRaffale (aka Gary Doodles), features the vocal …

January 28, 2014

by

aaron

Cloudy With A Chance of Meatballs 2 didn't hit the box office numbers that I'm sure Sony has hoped for, coming in below Hotel Transylvania's …

November 18, 2013

by

aaron

Myke Chilian just released a new FunnyOrDie exclusive short featuring the all-mighty, heavy-metal gods known as Gwar. Chilian wrote the 8-minute short along with Abed …

The rules at Titmouse's 5 Second Day state that you're allowed to spend the whole day making an animated short about whatever you want. This …
There are no comments yet, add one below.