September 23, 2008
by
aaron
Bone Up on the Brand New Flash CS4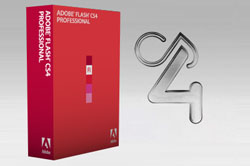 Adobe Flash CS4 Professional. It ships with a few new tools that many of us have been dreaming of for a few years now.
For starters, there's IK – or Inverse Kinematics. For more on what that is, check out this 3-minute tutorial I put together that illustrates how the Bone Tool can connect graphic symbols together. You may recognize the artwork – it's an elephant I borrowed from Ed Emberley:
[MEDIA=116]
And here's another way to use the bone tool – on vector shapes.
[MEDIA=117]

Related Posts
January 28, 2013

by

aaron

I somehow missed this when it came out last Fall, but it's a really compelling proposition to the Flash folks at Adobe. Anyone else feel …

by Aaron Simpson and Sean McKenzie Whether or not Apple allows Flash on the iPhone doesn't really effect us animators. Our Flash animations are enjoyed …

October 15, 2008

by

aaron