Comic-Con Interview With Tom Fulp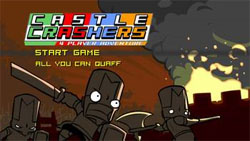 Comic-Con coverage continues (2 months after the event), with our Tom Fulp interview. Fulp, as you may know, is the founder of Newgrounds.com and also a partner in the gaming company The Behemoth. In this 3-minute interview below, we cover the launch of Castle Crashers, new figurines for sale, tricks for succeeding on Newgrounds (be original and team up with other talented folks) and Tom's continued collaborations with animator Dan Paladin. And make sure you pay attention to the people standing behind us wearing what looks like toilet seats around their necks. Oh Comic-con, how I love you.
[MEDIA=112]
This isn't our first interview with Tom. Check out Tom The Tank Engine, our 2-part interview from 2005. And another big thanks to the team at Mondo Media for the help producing this interview – especially to Jason Costello and Nate Johnson, the man behind the camera.