On The Bubble On The Election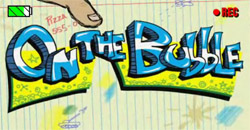 On The Bubble, the animated series created by Adam de la Pena (Code Monkeys and Minoriteam). The show, which is sponsored by Pepsi's Sierra Mist, is a weekly satirical news report hosted by 5 animated, fictional Middle Town Community College students.
The Sierra Mist team worked with Levity Entertainment to enlist the digital animation studio Worldwide Biggies to bring the show to life. Emmy-winning animation director Mark Salisbury was brought on to help along with South Park writer Glasgow Phillips. In this episode, we get an election report and bear witness to an appearance by guest-star Brian Posehn, the brilliant comedian from The Sarah Silverman Show, Just Shoot Me! and the almighty Mr. Show with Bob and David.
The animation director is Mike Luzzi, who is joined by animators Todd Ramsay, John Busby and Mark Pecoraro. Visit onthebubblenews.com for more info.