Making Fiends Makes Debut on Nicktoons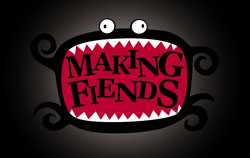 Nicktoons debuted a new Flash-animated series Making Fiends. Long in development, the series is one of the few projects to have successfully jumped from the web to TV, joining series like Happy Tree Friends, Yam Roll, The Amazing Adrenalini Brothers, Queer Duck, Pucca and 30-Second Bunnies Theatre. The Nicktoons brass is surely taking advantage of the series' darker edge – and hoping to use this Halloween season to catapult the show to ratings success.
A big congrats to Amy, series director Dave Wasson, and the entire Flash animation staff, including Aglaia Mortcheva, Shoshana Stolove and Rob Fendler (help me fill this out, gang). To help celebrate the launch of the TV series, Amy Winfrey, the creator of the show, has posted the title sequence on YouTube, which you can view below:
I attended the Comic-Con panel, and here is one of the (shaky) videos I shot. It's Dave Wasson detailing the production:
[MEDIA=121]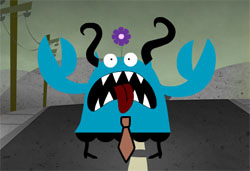 Making Fiends Fiend Creator, a Flash-based character generator that allows fans of the show to generate their own Clamburg residents.
And don't miss the next episode, which airs this Saturday, October 18th at 11:30 AM ET (8:30 Pacific). Check the schedule for more air dates. If you're looking to get your hands on the original Making Fiends web shorts, DVDs are for sale at Amy's site. Lastly, back in 2007, we interiewed Winfrey on her jump from the web to TV.