Oddbot Bites Into Disney's Alligator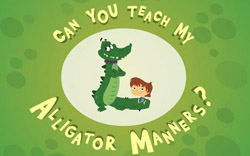 Playhouse Disney began airing a new original animated short-form series called Can You Teach My Alligator Manners? The Flash-animated series focuses on teaching preschool aged viewers to behave properly.
The show is animated by Los Angeles-based animation studio Oddbot Inc, who have also teamed up with Playhouse Disney in the past on shows like Shanna's Show and Shane's Kindergarten Countdown. Here's a clip from the episode titled Movie Manners, and below that we interview Christopher Hamilton from Oddbot.
[MEDIA=123]
AARON SIMPSON: Christopher, how did Oddbot wind up working on this project?
CHRISTOPHER HAMILTON: I've produced a number of short series for Playhouse Disney since 2003. I directed the Shanna's Show series, Shane's Kindergarten Countdown, and was supervising director on Lou and Lou: Safety Patrol during my time at the studio One Red Room, where I also served as the company's Creative Director.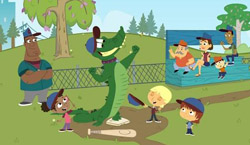 Lou and Lou: Safety Patrol, which later led to an order of the new series Can You Teach My Alligator Manners?
AARON: How much paper and pencil factor into your production?

CHRISTOPHER: Actually, quite a lot. When designing the characters, every rough image was sketched on paper until we landed on a character style we liked. From there we would scan and clean up the images using Flash. This was the same for character turnarounds, props, backgrounds, and even early character test animation. I've found that a majority of artists (at least the ones I've worked with) prefer designing with pencil and paper over working with Wacoms and Cintiqs. I definitely share this feeling.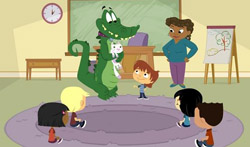 Todd Oman.
AARON: What type of animation direction theories went into the production?
CHRISTOPHER: We took a traditional animation approach for Al. Before the production started, we knew that we wanted Al to be slinky, quick, energetic, and very child-like, so we encouraged the crew to squash, stretch, bend, and use smears when appropriate. The animators would rough-out their animation on paper or draw directly into Flash with a Wacom tablet – depending on their individual preferences.