PBS Commissions Artopia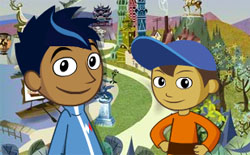 Ron Doucet recently pointed me to a new PBS series, Artopia, a mixed-media television show for kids about the world of art. It was produced for Thirteen.org & Decode Entertainment by Steve DeNure, Beth Stevenson, Jill Peters, Sandra Sheppard, and Kim Hyde. Direction was handled by Murray Bain, art direction by Marek Colek and animation direction by Andrew Holland. Below is the first episode, animated in Flash by the gang at Copernicus Studios Inc, with some Photoshop, After Effects and 3D thrown in to complete the final look.
In this full episode below, you can see they've animated the series with lively characters, lush backgrounds and a great sense of timing throughout.
[MEDIA=124]