Piles of Flash Animated DVDs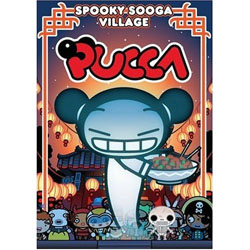 Pucca: Spooky Sooga Village, that features 77 minutes of spooky, Halloween-themed shorts. The series, as you may know, started out on the web and graduated to a Flash-animated TV series in 2006.
Wow! Wow! Wubbzy! A Tale of Tails arrived last week, featuring 8 episodes of the series created by Bob Boyle. The show is aimed at the 3-7 audience. In honor of this release, let's watch a promo for the Wubbzy Dance Contest.
And I've also spotted new DVDs from College University and Jimmy Cross – It's Monkey Time!
There are no comments yet, add one below.