Hoogerbrugge Book Explores The Fellini of Flash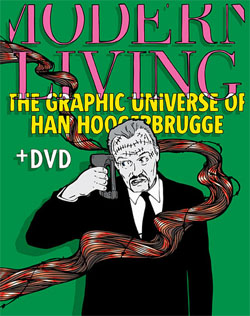 Han Hoogerbrugge, the Rotterdam-based digital artist, is the subject of a new book – Modern Living: The Graphic Universe of Han Hoogerbrugge. The 200 page book (which comes with a DVD) opens with a multi-panel comic of Han commenting on the book itself. It's only fitting, as Hoogerbrugge has made himself the subject of the balance of his popular work (the interactive, Flash-animated series Modern Living/Neurotica, Hotel and Nails) but not in a self-obsessed way. The stark, often whimsical renderings of himself are more of a diary of his take on pop culture or simply what he observed during the day. In this way, Hoogerbrugge's work is surprisingly accessible for, what most would describe as, surrealist material. In fact, Han drops the veil completely near the end of the book and offers a step-by-step instruction of how, with the help of a green screen, he digitally produces his work.
Speaking of his work, here's 20 of Hans's Flash-animated shorts assembled into a 7-minute clip:
[MEDIA=131]
The coffee table book, which sells for €39.00 (approx $50 USD), reads like a graphic novel for the post-modern digital art aficionado. Essays on Hoogerbrugge's work, life and interactive pioneering are interspersed between large comics, prints of his work and stills from animations. We also learn that Hoogerbrugge, dubbed "The Fellini of Flash," has produced in nearly every medium imaginable; sketches, paintings, installations, music and of course his 10-years of interactive, online animation. And somehow, a book, a medium that has existed for almost 4,000 years, manages to capture the essence of this dizzying array of Hoogerbrugge's progressive artistic outlets.