Lineboil – Our New Animation Site!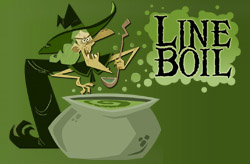 Lineboil.com, a new entertainment website focusing on the ENTIRE character animation industry. We've actually been running silent for over a year now, getting a feel for the task of covering the whole industry and building our contributor team. Speaking of contributors, head over to Lineboil to meet Brendan Burch, Pasquale D'Silva, Ron Doucet, Keith Staskiewicz and Alan Cook. They'll be helping me write about all things animated – feature films, TV commercials, music videos, TV shows, student shorts and whatever else is crafted with "the illusion of life." If you'd like to join our contributor team, contact us here.
So, what does "Lineboil" mean anyway? Well, a "boiling line" is what happens when an artist repeats a particular drawing and the inevitable inconsistencies make for a wobbly line that appears to be boiling. Some teams have chosen to utilize this for stylistic effect.
Shows like Ed, Edd n Eddy and Dr. Katz are good examples of this effect.
A big thanks goes out to the infinitely talented Tyler Schroeder, the Vancouver-based artist who designed Renda, the Lineboil mascot. Tyler is also one of the founders of Industry Creative – a new game development and animation services team you should keep an eye on. Additional props go out to Dizzain, who built the new site and continue to help us here on CHF. And finally to Tim Barkow and Sean McKenzie for their excellent feedback and advice.
So we hope you'll bookmark our new site and make it part of your daily routine. And if you get a chance, let us know what you think of the design and concept in the comments.