Naked Brothers Band Get Animated
The Naked Brothers Band is rocking animation-style this week. At 8:30pm tonight, the band's first half-hour cartoon special, The Supetastic 6, premieres on Nickelodeon. Check out a 1-minute clip on the Nick's Turbonick site.
"We're excited to premiere The Naked Brothers Band's first animated special which showcases their humor in a fun, new, fantasy-filled format," said Marjorie Cohn, Executive Vice President, Development and Original Programming, Nickelodeon Networks.
Mark Salisbury, an athlete-turned-artist, captained a small squad of artists through this ambitious production. Working out of Worldwide Biggies, Albie Hecht's New York-based company which also produces the live-action series, the team drew from a creative playbook to bring this musical action project to life. We recently caught up with Mark to discuss this upcoming Flash-animated special.
AARON SIMPSON: Give us an idea of how this project came to be.
a music video for The Naked Brothers Band two summers ago. The creator of The Naked Brothers Band, Polly Draper loved what we did on that video and said that if they got picked up for another season that they were going to write an animated episode. I've since joined Albie Hecht (CEO of Worldwide Biggies and former President of Nickelodeon), where they produce the live action series. And that's how it happened…. as far as I know.
AARON: Does the animated version of the property take place in a similar world to the live-action Nickelodeon show?

MARK: It's a superhero spoof, so it's pretty far removed from the live-action show. The boys are still musicians, but they're members of the Supetastic 6, who defeat evil in the music world.
AARON: Who wrote the project?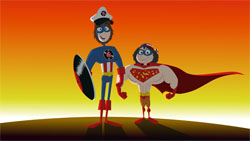 Kenny the Shark. The script the two of them delivered for this project is one of my favorite animated scripts I've ever worked on.
AARON: Along the way, did you work with the writers as the show evolved through storyboarding?
MARK: Yes, completely. Working with the board artist, John Delaney, I added a lot of extra gags, visual gags, and I would call Bob to ask for lines because he's funnier than I am. The original script had a whole lizard chase sequence, and it was just too big for the production so we had to scale it back a bit. But there were all sorts of little gags I added in along the way.
AARON: The character design process must be more difficult when your team was challenged to capture likenesses.
MARK: Yes, that definitely limits your design. But we had a whole set of designs done and approved before we started production. We had turnarounds done for most of them, but a lot of us here weren't happy with the direction. So the art director, Tim Shankweiler, redesigned all of the characters. Its always a big risk when you change things that are already approved but it paid off well.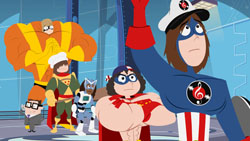 Matt Pinfield (the former MTV host) and his plans for Global Balding. The "B" story follows Sonny after he has been baldified by a Pinfield ray. Sonny goes to see Dr. Krayzee, an absent minded evil scientist, and hilarity ensues. The story is fast moving and has great moments throughout.
AARON: Tell us a little more about the team that worked with you on the project.
Michael Lennicx was the senior designer and Kirk Etienne was the designer (former art director of Little Einsteins). The animation team consisted of Scott Martin, Frank Summers, Joe Andriola, Barrett Benica and Chris McMurray, who joined late to help out. Conor O'Kelly-Lynch and I handled compositing. We also had two clean-up people – Bianca Franco and Andrew Bogenhagen. So I think that makes a team of 11 or 12 people for a 22 minute show with 370 shots.
AARON: Tell us about the 3D elements you integrated into the 2D world.