Powerpuff Girls 10th Anniversary Interview With Creator Craig McCracken
Like Larry Page and Sergey Brin's web empire Google, Craig McCracken's path to world domination began as a school project. While the TV series and the internet search giant launched within weeks of eachother, it was 1992 when McCracken first brought Blossom, Bubbles and Buttercup to life in a student short titled Whoopass Stew! A Sticky Situation, initially introducing the threesome as The Whoopass Girls. The Google gang may preach their altruistic "don't be evil" mantra, but The Powerpuff Girls immediately "dedicated their lives to fighting crime and the forces of evil." Let's watch a few scenes from this original short:
[media id=136]
McCracken's crime-fighting cuties wowed the execs at Hanna-Barbera, in particular Fred Seibert, who navigated Craig's work into What A Cartoon! Show (initially dubbed World Premiere Toons), the seminal shorts program that spawned a string of animated hits like Dexter's Laboratory, Johnny Bravo and Courage the Cowardly Dog.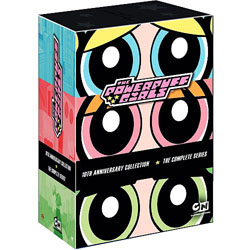 The Powerpuff Girls: The Complete Series – 10th Anniversary Collection). McCracken's college roommate Genndy Tartakovsky was already a rising star at Cartoon Network, having created Dexter's Lab, when the two teamed up to produce the first season of PPG. On November 18, 1998, the series enjoyed the highest rated premiere in Cartoon Network's history, setting the stage for a six season run.

The show went on to win several Emmy awards, an Annie award and in 2002, TV Guide listed their 50 greatest cartoon characters of all time, placing The Powerpuff Girls (collectively) in the 13th spot – ahead of animation legends like Popeye, Porky Pig and even Mickey Mouse.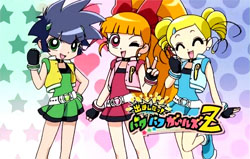 PPG feature-length film debuted on July 3rd, 2002, and in 2006 an anime-inspired spin-off, titled Demashita! Powerpuff Girls Z, bowed in Japan. In the kids cartoon world, hits are often measured in merchandise sales – and PPG has sold more than $1 billion at retail, making it an mega-hit. Moreover, the long-running series played a major role in putting Cartoon Network on the map.
CHEMICAL X BY FEDEX
Ten years ago, when PPG first debuted, cartoons were almost all "shipped" overseas to studios like Sunwoo, Koko and AKOM.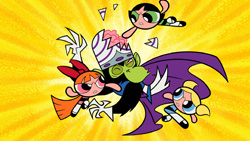 Rough Draft, the Seoul-based studio. In a 1995 interview (conducted by the late Emru Townsend), McCracken had this to say about the outsourcing process:
Going overseas, I'm not there to supervise. So it is frustrating, and we try to control it and give as much direction here as we can, so they can interpret it, but it never has the same finesse as if I had done it here.
On the surface, The Powerpuff Girls series didn't appear to suffer from all this creative jetlag, but when McCracken got the chance to plan his next production, he aimed to remove FedEx from the equation.
PRODUCTION COMES "HOME"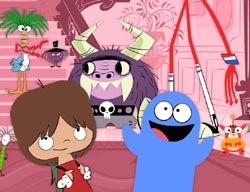 Foster's Home for Imaginary Friends, bowed in 2004 to record ratings. It was business as usual for the Cartoon Network hit-factory, but behind the scenes, the production pipeline was being re-imagined. Before the overseas studios got into the act, most cartoons were both conceived AND produced in the same building. For financial reasons, this model broke in the 80s, and penny-pinching studios found significant cost-savings overseas. But with the arrival of inexpensive digital 2D software, namely Adobe Flash, this type of production was again possible, and McCracken was quick to take advantage. Along with Flash-wizard Eric Pringle, one of the Animation Directors on Foster's, he architected a system that allowed for US-based production of half of the episodes (the other half going to Boulder Media in Ireland). The show has rung up years of ratings success and multiple awards, further cementing McCracken's appreciation for this new powerful digital technology.
ADOBE FLASHBACK
Next Monday, Jan. 19, at 8 p.m. (ET, PT), the first new PPG episode in 4 years, titled THE POWERPUFF GIRLS RULE!!!, will debut on Cartoon Network, celebrating the 10th anniversary of the series debut. Here's a 2:30 clip from the episode:
[media id=135]
In this newly-minted episode, Blossom, Bubbles and Buttercup return to their familiar roles, as do dozens of artists from the original crew.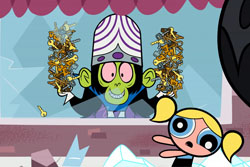 Tears For Fears wrote Everybody Wants to Rule the World for PPG. Who came up with this pairing concept?
CRAIG: I wanted the Mojo quitting sequence to be all Wes Anderson-style – slo-mo walking with the perfect song driving the whole thing. I think I suggested it, or it could have been Lauren, or maybe Derek Bachman – I really can't remember. I just recall that we were all laughing so hard at the idea. I do remember thinking "this is perfect, I just hope we can get the rights to use it!" Here's an inside scoop: the reason we had Mojo sing it and not use the original recording is that it costs half as much to license the song if you have someone else perform it.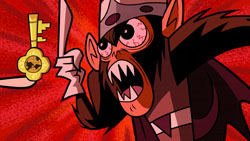 Cartoonstitute. Is it similar to previous CN series incubation efforts?
CRAIG: It's kind of a cross between Oh Yeah! and What a Cartoon! Show. It's a fast-paced, artist-driven program without a lot of executive interference. The idea was to get artists into the studio and start generating new content that could be considered for future Network series. It's going really well; in just 9 months we have 25 shorts in the pipeline and the Network is already seeing show potential in some of what we've done. It's cool to see a new generation of artists coming in with fresh ideas that I hope can be the cartoons of the future.
We now switch over to Eric Pringle, the Animation Director on THE POWERPUFF GIRLS RULE!!! and creator of Prophet Buddy, for a few questions about the production.
AARON: Is PPG a natural fit for Flash production?