Bob & Doug Go Global on Sunday Night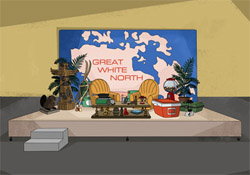 Sit Down, Shut Up bows on FOX this Sunday, ABC's The Goode Family kicks off on May 27th – and this Sunday, Canada will tune into Bob & Doug. The project was spearheaded by Animax Entertainment, who initially produced animated versions of the SCTV characters for the 2002 DVD release of Strange Brew. Seven years later, as the TV series rolls out, it goes to show you how determination can win out. The Flash-animated half-hour series premieres this Sunday on Global TV at 7:30 p.m. ET/PT, sandwiched between American Dad and Family Guy. Congrats, Animax!
Related Posts
Tennessee Tuxedo, a 1960s animated series, has returned on the branded entertainment channel sillychannel.com, which is sponsored by Trix. As you may know, Trix is …

Jake Clark, an animator working out of Titmouse's Vancouver shop, produced this fun, Flash-animated short for the 2015 5 Second Day. It's titled Techno Pond:

January 15, 2015

by

aaron

Check out this new clip from the new Niko and the Sword of Light series. Its "a fantasy adventure series for kids ages 6-11 that …

December 11, 2014

by

aaron

LA-based comedian Deepak Sethi, who has writing credits on Family Guy and Brickleberry, created this new animated Mondo series titled Dee Tremendous. Its about an …
There are no comments yet, add one below.