Erin 3surance Boards Star Trek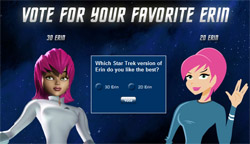 Star Trek movie promotion mission, and in doing so they've redesigned pink-haired Erin Esurance. She's been taken into the 3rd dimension… or 3D. She originally found popularity in her Flash-animated 2D form, and we can only wonder if she's been beamed out of our universe forever. Go to the Star Trek website to vote for your favorite design.
Thanks to Rob Fendler for the story tip.
Related Posts
January 15, 2010

by

aaron

In the wake of the W!LDBRAIN office closing, Phil Robinson and his new company Special Agent Productions have gotten off to a strong start up …

In this :30, Flash-animated PSA below, Erin Esurance reminds us all to go "lights out" at 8:30pm tomorrow for Earth Hour. The worldwide event was …

January 29, 2009

by

aaron

While the Esurance team may be distracted by their recent coupling with the upcoming Star Trek movie, they haven't stopped pumping out adventures for pink-haired …

November 6, 2008

by

aaron

If you've been obsessively watching TV these past few days, transfixed on this election coverage, you may have seen the new Erin Esurance TV spot …