Indies Flash Animation Class 2009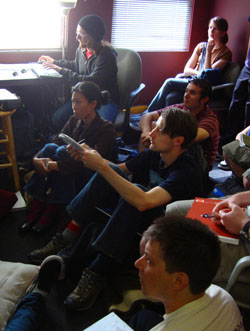 Animax, Oddbot, Renegade, Six Point Harness and Titmouse. Artists who take full advantage of this opportunity will emerge with HIGHLY employable skills in a very vibrant employment climate.
WHO SHOULD APPLY
Talented individuals pursuing a career in animation for television, film and emerging media. You DON'T need to know how to use Flash to apply, but we do recommend you at least download a free trial copy and have a basic understanding of the software.
SCHEDULE

WEEK 1 (May 9th, 2009)
Pre-Production and Drawing/ Symbolizing with Flash
WEEK 2 (May 16th, 2009)
Organization of Assets, Pipeline Basics and Basic Animation
WEEK 3 (May 30th, 2009)
Animation 101- Acting and Believability
WEEK 4 (June 6th, 2009)
Animation Continued- Action, Tips, Tricks, AND making Flash work with other tools
SUBMISSION PROCESS
Artists are being chosen by a committee, and your skills will be evaluated across an array of categories. We highly encourage you to take the test we've supplied below, but feel free to submit an animation reel consisting of any type of animation you think exemplifies your understanding of animation principles. We also require that you submit a current resume. Enter your test materials, animation reel and resume via the Lineboil.com file submission page (disregard the legal language – we will not be posting your videos anywhere). Use the "message" window to enter links to YouTube reels or online portfolios. In the subject box, enter "2009 Flash Class." Your ability to follow instructions WILL BE TAKEN INTO CONSIDERATION.
APPLICATION DEADLINE
We'll be accepting applications until the end of Sunday May 3rd. We'll begin to send invitations by May 5th.
ANIMATION TEST
Download the animation test by right-clicking (MAC: Control-click) and saving this link – test (PC) test (MAC) (19 mb ZIP). . The password to open the ZIP file is "keyframe." Inside are all the assets you need to complete the test, and if you don't have a copy of Flash, download a 30-day trial at adobe.com.
FILE FORMATS ACCEPTED
Animation Test – link to YouTube (optimum choice), mp4, swf, wmv, qt, mov, mpg, avi
Animation Reel – link to YouTube (optimum choice), mp4, swf, wmv, qt, mov, mpg, avi
Resume - pdf (optimum choice) or txt – Word doesn't upload for some reason
Portfolio - blog or website (optimum choice), pdf, jpg