Brothers Chaps in the News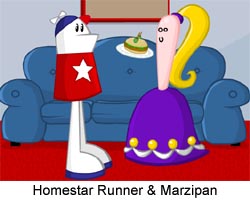 Homestar Runner. Catching Up with Homestar Runner by Karen Raugust notes that the Flash-animated series Strong Bad Emails has been put on hiatus after the 200th episode. But according to the article, that doesn't mean the brothers have stopped animating:
"The content is more varied now," says Mike Chapman, who founded the site with Craig Zobel in 2000. "Before, at least 60% to 70% of the updates were Strong Bad Emails, but now it's sort of a mixed bag. It's a little more fun for us."
The article also points out that the economic downturn has hurt their business, which relies heavily on DVD and t-shirt sales. I think it was a smart move to release a less expensive Strong Bad Emails DVD with 50 of the best episodes for $10. Should increase sales, me thinks.
The Chaps were also highlighted in a new book by Scott Kirsner, titled Fans, Friends and Followers: Building an Audience and a Creative Career in the Digital Age. Here's a quote from Mike Chapman:
We learned how to politely say no to things that were going to affect our lives negatively. If it's going to be fun, if we're going to enjoy doing it, and if the end project is going to be something we want to have happen, we say yes.
For more on this dynamic duo, check out our 2008 interview Chapman's Cool Interview For Animation People.