Foster's Leaves Home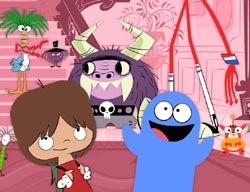 Foster's Home for Imaginary Friends began in 2004 and has delivered over 75 episodes and received numerous awards. I know most of the crew has already left the building, but here's to an exceptional run. You guys created something quite special.
For more on the topic, check out our interview with series creator Craig McCracken and animation director Eric Pringle.
Related Posts
One of TV's most famous duos, Tom and Jerry, are about set to return to US television. Starting on April 9th, Cartoon Network will begin …

January 28, 2014

by

aaron

Cloudy With A Chance of Meatballs 2 didn't hit the box office numbers that I'm sure Sony has hoped for, coming in below Hotel Transylvania's …

mc chris was one of the first people to take advantage of Kickstarter for an animated project, raising over $70,000 back in 2011. The money …

I spotted some animation that Brian Egan has been assisting on for cartoonist M. Wartella for Cartoon Network's MAD series, all using Flash. Read more …