Interview With Freakish Kid Stu Gamble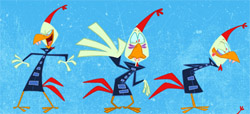 Formerly known as GreyKid Pictures, Stu Gamble's Budapest-based animation studio has taken on a new name – Freakish Kid. Along with his two partners, Dan Balaam and Jez Hall (who is also the designer of Federov, the fearless CHF mascot), the team has launched a new website, showcasing what the team has accomplished in recent years. Included is a teaser for a Nicktoons project they produced called Cluckie the Vampire Chicken. The 5-episode order was produced using Anime Studio and Flash, and below is a little teaser:
Stu recently took some time to answer a few questions about the project and the new studio:
AARON SIMPSON: Did you pitch this concept to Nicktoons, or create it specifically for them?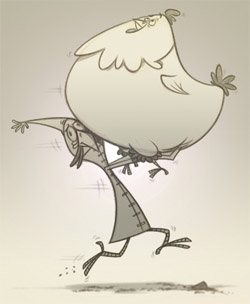 STU GAMBLE: We'd written it down in some dusty notebook 10 years before, and we brought it out and decided to take it to the next step. Actually it was one of those big clean outs – I just love emptying old boxes from years past. You never know what you're going to find. He was just laying there in the bottom of the box so we pulled him out (after sundown of course), gave him CPR and took him to Nick. They loved the idea, which at first was just a one minute short, they wanted to try and give it legs so we took it away and devised a plan to make it more than a one story deal.
AARON: How did this character first come to mind?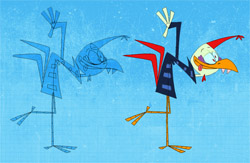 STU: I love the old Nosferatu and Dracula movies and really wanted to do something that had an anti-hero type character in the lead. Someone who we know we shouldn't root for but at the same time quenched our guilty pleasures. Who doesn't want the bad guy to win in a movie? For me, they make the most interesting, more complex characters so we came up with Cluckie. Originally it was a one off film – he was a rooster that was also a vampire and the idea was to have him going after the chicks in the hen yard, then the sun starts to rise and his primal instinct of crowing the sun kicks in. Of course, the sun kills vampires so he gets stuck with a real dilemma, run and live or crow and die – he chooses to crow!
AARON: The lack of dialog and fiendish plots reminds me of the old Road Runner shorts. What projects and artists inspired this production?
STU: You hit it on the head, one of my personal favorites was the Road Runner cartoons, I loved them – still do! I'm heavily influenced by the golden age of animation and my absolute hero is Chuck Jones. In a way its a homage to my hero – he gave my childhood so much happiness.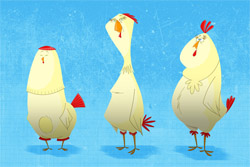 I'd sit in front of the TV and watch Looney Tunes all day long, and later on in life I'd draw them all day long. Even when I watch them now they still feel fresh, funny and current.
One of the aims for this show was to produce an animation style that reflected that golden age, with great timing, squash & stretch and funny poses but produced in a digital enviroment. I wanted to try and accomplish the same feel as those hand drawn shorts of 60 years ago. I'm not sure we hit it perfect – I don't think that's possible – but we made something that shows the same amount of care and love that went into those shorts of yesteryear.
AARON: What's the rollout plan for these?
STU: They're already on air in the UK and Europe. Not so sure about the States but we're entering all five to as many festivals as we can. What would be great is if Nicktoons asked for more episodes. When we pitched the storylines we had around 16 great little stories.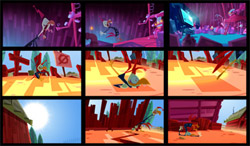 Hopefully if they drum up enough interest that'll convince Nick UK to make some more. They're a labour of love so even for a small budget we'll make it work!
AARON: Who designed the characters?
STU: My creative partners Jez Hall, Dan Balaam and I created and designed the character. As I said before, I love the old Nausferatu character so I wanted to incorporate something from that into the design of Cluckie. The most recognizable part of Nausferatu's design (for me) is his costume, so we adapted that for Cluckie. We created a back story for the character that can be seen in the title sequence, his egg is bitten by a vampire bat so he becomes a vampire from hatching. Because of his lack of vitamin D his feathers are falling out, that's why he wears a rubber glove on his head – he has an issue with being bold! He's just your average vampire chicken.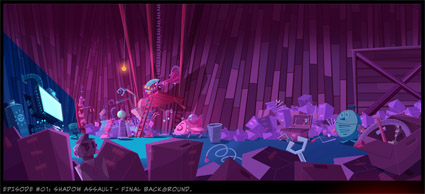 AARON: The background layouts are gorgeous – who is the artist behind those?
STU: I had a definite vision for the backgrounds in the show so I took on the job of designing the background layouts, I also painted the first few to get the style across to my team. After that, a very talented artist named Miklos Weigert took over and ironed out the wrinkles and sprinkled some of his magic. We had colour scripts from each episode painted (by Jez Hall) and from those we expanded the colour pallet and created some lovely artwork. As I said, the show is a real labour of love and you can see that in every frame of the production, we're very proud of it.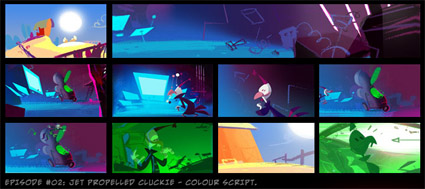 AARON: What software was used in the production?
STU: For the main character animation Anime Studio was used. It's just so versatile when it comes to character animation. We were really trying to push the limits of the software with this show but it never caved in. We also used Flash in this production, mainly in the pre production phase.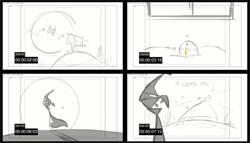 It's the first time we've used Flash for digital storyboarding, and now we'll never go back. It's just great to keep it all in the digital realm. Flash was also used for some minor animation as well as some of the background production. We'd create the basic shapes for the backgrounds and then take them into Photoshop to spruce them up. For the composition and FX we used Autodesk's Combustion, we really wanted to add some depth into each scene so it didn't matter whether it was 20 frames or 200 we made sure that time and care went into everything.
AARON: How do you choose which animation package to use on your productions?
STU: We've found that all character work is done very well with Anime Studio. We've yet to come across another package that we can get as much out of as that one but a few leaps and bounds have come along within Flash lately so we're also trying that more. We've yet to try Animate Pro from Toon Boom. It looks interesting so maybe we will one day. Our production deadlines are usually pretty tight and we often go for the software package we know can deliver what our clients want, 9 times out of 10 that's Anime Studio.
AARON: Congrats on launching the new website. What lives in the KidTV area?
STU: KidTV is the section of our new website that showcases all of our favorite work. What we hope is that it grows over the coming months into something of a conversational piece, we encourage visitors to the site to leave comments and views – constructive criticism is a good thing! We also have an area called 'The Art Of' where we break down a selection of our bigger productions and go behind the scenes, exposing the bare bones of how we design, our thoughts on the production process and the problems we have tackled on a particular production.
AARON: You've changed your studios name. What initiated the change?

STU: Actually it's a change back to our old name, the company went through a partnership a few years ago. That has ended now and we felt it right to change it back to what it once was and move forward again.
AARON: What's the animation community like in Budapest?
Great! There are so many fantastic artists here! And the animation history of the country is a very vibrant one. There's also a very strong embrace of digital technology here which is good for us as we no longer produce traditional animation, we can and still have the facilities to do so but we feel we need to focus on the future of things and we're pretty much nailing down that bridge between traditional and digital.
AARON: What else is coming up for Freakish Kid?
STU: We've got a lot bubbling under the surface. Everything is about to pop but nothing wants to just yet! We're working on a game for a company in Dubai, Nick UK has commissioned us to produce a series of ten interstitials which once again push the envelope of what we can do. We're also waiting to hear if the show As Seen On TV for FX International is moving forward. We developing a couple of short films that we want to make and send to festivals around the world and of course we hoping that Cluckie will make some further appearances!