Larkmart Episode Three – Tires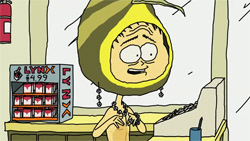 Larkmart, titled Tires, is on shelves now. In this installment of my very own Flash-animated series introduces us to a friendly, middle-aged man named Gregory on the hunt for an All-Season Radial Tire, but little does he know that he's standing in the center lane of on the Larkmart expressway. To his surprise, Gregory finds love, but it moves so quickly, passionately, and painfully.
A new animator joined the production this time – Scott Martin, and I'm a huge fan of what he added to the short. Episode 2 animator Mark Salisbury acted as Animation Supervisor, and the now imfamous (see Cartoon Brew) and incredibly talented Eric Bauza joined the cast, performing the voices of Gregory and Greg's dear old mum.
Related Posts
January 29, 2015

by

aaron

Deep Space 69, Dick Figures, Gundarr and Kung Fu Karl are all headed to TV, starting tonight at 10:30pm. They're all part of new Fusion …

January 23, 2015

by

aaron

The Don't Feed The Humans 4-parter episode is almost complete, with today's launch of part 2. Will the humans escape their captors – will Tom …

December 11, 2014

by

aaron

LA-based comedian Deepak Sethi, who has writing credits on Family Guy and Brickleberry, created this new animated Mondo series titled Dee Tremendous. Its about an …

December 5, 2014

by

aaron

Ned Petrie and Brian MacQuarrie created and wrote this first episode of Erik the Pillager, a new series on Mondo. Erik and his buddy Bjorn …