Six Point Harness Delivers The Drawn Together Movie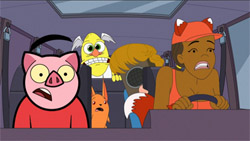 The Drawn Together Movie: The Movie! DVD, which hits shelves at 4:20pm today in 420 stores for the low-low price of $4.20. Okay, it's $14.99, but that's not a weed joke.
With that out of the way, I'd like to begin celebrating the DVD's release, along with the team at Six Point Harness Studios, who produced the DVD right here in Hollywood. They took the Comedy Central series that was animated traditionally in South Korea, and re-imagined it as a Flash production, easily mimicking the production values, and often going above and beyond.
In this behind-the-scenes video below, you'll learn that the pilot was actually produced in Flash, and this feature-length production is sort of a "make good" on that clunky effort. You'll hear from series creators/writers Dave Jeser and Matt Silverstein who offer high praise to 6PH, and then there's some lengthy discussion with director Greg Franklin, animation producer Andy Fiedler and editor Tony Christopherson. Huge congrats to the whole team at Six Point – looks great and I'll see you tonight at the premiere.
and here's the Red Band Trailer (NSFW):

There are no comments yet, add one below.