September 7, 2010
by
aaron
Sexy Animation Too Hot For YouTube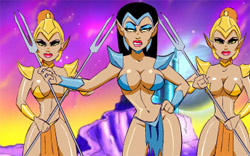 Harry Partridge created this new teaser for Starbarians, a Flash-animated project he's been cooking, and uploaded it to his popular YouTube channel. While there's no nudity in the short, YouTube nixed the video for being "too sexually provacative." Luckily Newgrounds welcomed the short with open arms, and it's already nearing 200,000 views. [NSFW - sexual innuendo and big, bouncy lady parts]
[link]
Related Posts
The Elder Scrolls Online rolled out in early April, establishing the first open-ended multiplayer installment of the franchise. To mark this occasion, Harry Partridge has …

Twin-animators Tommy and Markus Vad Flaaten have revealed a new song alongside a new animated short. It's titled How To Get Ripped Fast, and its …

The 'Rembrandt of Cyberspace', aka Oliver Age 24, has delivered an intergalactic dance sensation. His track, Rave on the ISS, is apparently already huge on …

In this new, Flash-animated short, UK-based animator Andy Baker reveals five easy steps to succeeding in art school.