Cartoon Network Pilots Emerge From London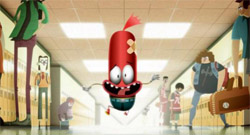 on Lineboil, is scheduled for May 9th, and it will be the first series to emerge from the London-based Cartoon Network Development Studio Europe team. This group, which is helmed by Daniel Lennard, is tasked with incubating new series, and you're about to get a sneak peek at the next contenders. Six 3-minute pilots, some of which has been finished for 2 years, and all of which were produced in Flash (in concert with Photoshop, Illustrator and After Effects), are now available for viewing on the YouTube. I'm including my particular favorites below, but they're all worth a look. I feel like I should almost break this into several posts, because these videos include some of the best Flash-animation we'll post all year. Please post your comments below on which shows you want to see on Cartoon Network. Lots of production art and details over on Chris Garbutt's blog.
Pinky Malinky
Created by Chris Garbutt
High School wiener "Pinky Malinky" is a four-foot-tall bright pink hotdog sausage who must find the courage to stand up to the school bully.
The Furry Pals
Created by Rikke Asbjorn (remember Little Rikke?)
A reckless gang of animal friends find themselves in a lot of trouble, riding across the desert chased by a gang of giant chickens.
Verne On Vacation
Created Sylvain Marc (2nd place in the the Flash Animation 10)
Embark on a voyage of discovery with Verne and his two unusual friends, Horace the magic merman and Gaston the robotic pig.