JibJab Sues Toyota For Some Dead Presidents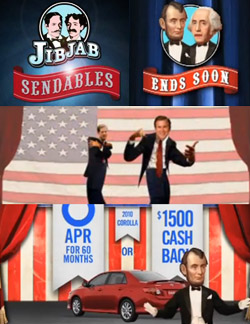 Toyota Motor USA seems to be in a stealing mood. I'll let JibJab's official complaint for damages explain why:
"Toyota recently ran a commercial promoting its 2011 President's Day sale, which incorporated elements identical (to) and/or substantially indistinguishable from JibJab's Founding Father's Rap and Starring You Tap Dance videos."
The TV spot in question was produced by Hoffman Lewis, who simply shoulda known better. The whole dancing president thing certainly feels JibJab-esque, but wait until the end for the little "Ends Soon" tag – it's a blatant rip. Watch for yourselves, ladies and gentlemen of the jury….

http://www.youtube.com/watch?v=PYfMLFjMjgs
(Full disclosure – I worked a JibJab many years ago, but that's not how I discovered this.)