Mondo Open For Pitches After YouTube Channel Announcement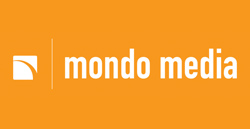 big YouTube channels announcement. I'm thrilled to announce that Mondo Media is one of the partners joining the party. As you may know, I head up development at Mondo, and we're now looking for dozens of new series to fund or co-produce. Whether you're a writer, producer, animator or designer, you're encouraged to submit pitches for short-form, animated comedy series, primarily aimed at college-aged guys. To get more details, head over to the Mondo Pitch Us a Show mini-site.
And, now for a little background on how we got here. After waiting for what seems like an eternity, the web series arena has rapidly matured in just the past couple of years. We're seeing armfuls of animated, online series turn into bona fide franchises. Animated shows like Simon's Cat,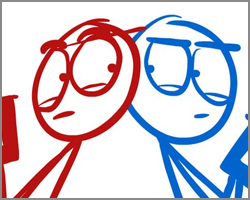 Cyanide & Happiness, Dick Figures and Annoying Orange are pulling in hundreds of millions of views, and spinning off into book deals, merchandise and TV series. Clearing the path for these projects is YouTube, a platform initially dismissed as a collection of cat videos and illegal uploads, and with the rapid growth of their Partner Program and this announcement of more than 100 new original channels, things are starting to get interesting.
In past years, the measure of online series success has been whether or not you could land a TV deal. Several animated web shows, like Ugly Americans, Robot Chicken and Mondo's very own Happy Tree Friends, have done just that, but in this new environment filled with the YouTube Partner Program, Blip.tv, KickStarter, iTunes, Hulu and Roku, we're seeing a different option emerging. Instead of a handful of TV network execs doling out a few, precious pilot opportunities each year, the gates are now wide open, so long as you start relatively small. It's what you might call a 'bubble-up' approach that allows small teams to grow a show, independently, and build it into a franchise, with or without a TV deal. The TV model pushes from the top, hand-selecting which pilots are worthy of getting an audience. The goal for us at Mondo is to launch ALL pilots, and allow the audience to decide what they want.
Does that mean a TV series deal isn't a desired outcome for most online series teams? Absolutely not. TV deals can be very lucrative, but that path can often tie up a property and the creative team behind it, threatening to stall online momentum. A new approach is to start on YouTube and Newgrounds, like Arin 'Egoraptor' Hanson, Harry Partridge, Tom 'Ska' Ridgewell and Chris 'Oney' O'Neill have done, and build a fanbase of hundreds of thousands of subscribers. And now, with funding from teams like Mondo, independent animators and small production teams can get a jump start on their web series. Our mission is to identify dozens of great series, inject some funding, and get out of the way. But when it comes time to launch these shows, we step back in and bring our massive online audience with us. It's exciting times – and I look forward to seeing your pitches!