Disney XD's Motorcity Firing On All Cylinders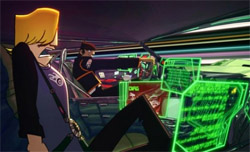 Titmouse is nearly set to roll-out their latest production model – Motorcity. This turbo-charged series premieres on Disney XD on April 30th at 9pm ET/PT, and it looks like a hit in the making.
The team has set a new bar for Flash character animation. While Titmouse is employing "re-use" techniques, you'd never know it, as the animation so full and fluid. There's certainly a lot of drawing mileage going into each and every shot, and the facial acting is really elaborate and engaging. Of course, Flash isn't the only tool being employed – the Titmouse team is using After Effects, Maya and Photoshop as well. Here's a few shots from the show:

The Titmouse crew went into overdrive on the tech side too, creating proprietary Flash plug-ins and scripts to lubricate the production pipeline. For instance, here's the 'Facinator' plug-in that allows an animator to quickly select a head position from a wide array of angles, somewhat mimicking a CG rig. The plug-in, which was built by Justin Putney @ Ajar, is displayed around the 1-minute mark:
If you can't wait until the 30th, you can go see the first episode over on iTunes, and there's also a free iPad/iPhone game.