Mondo Launches MondoMedia.com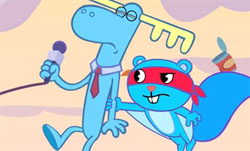 MondoMedia.com, which is now stuffed full of hundreds of animated shorts from series like Dick Figures, Happy Tree Friends and Gundarr. In fact, there's already an exclusive, all-new Happy Tree Friends episode up on the site. We've got big plans for the site, so register for the newsletter and keep your eyes fixed on your email inbox and NEVER BLINK AGAIN! It may help to drink your own sweat, but I'm not an expert on that topic.
Related Posts
January 29, 2015

by

aaron

Deep Space 69, Dick Figures, Gundarr and Kung Fu Karl are all headed to TV, starting tonight at 10:30pm. They're all part of new Fusion …

January 23, 2015

by

aaron

The Don't Feed The Humans 4-parter episode is almost complete, with today's launch of part 2. Will the humans escape their captors – will Tom …

December 11, 2014

by

aaron

LA-based comedian Deepak Sethi, who has writing credits on Family Guy and Brickleberry, created this new animated Mondo series titled Dee Tremendous. Its about an …

December 5, 2014

by

aaron

Ned Petrie and Brian MacQuarrie created and wrote this first episode of Erik the Pillager, a new series on Mondo. Erik and his buddy Bjorn …
There are no comments yet, add one below.