February 15, 2013
by
aaron
Titmouse Puts 5 Second Day On The Big Screen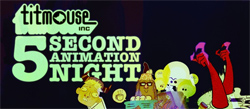 For the first time ever Titmouse is bringing their 5 Second Animation project to a theater. Tonight at the Grauman's Egyptian Theatre at 7:30 pm in Hollywood, animation fans will be treated to the creations of the Titmouse staff. For several years now, the Titmouse team has carved out work hours for their artists to make whatever they want.
You can buy tickets online for $11 (and $9 for students).
Related Posts
Jake Clark, an animator working out of Titmouse's Vancouver shop, produced this fun, Flash-animated short for the 2015 5 Second Day. It's titled Techno Pond:

While Weebl's Narwhals video re-infects your brain via a Sprint commercial, have a look at another enjoyable narwhal-themed animated short by Christian White and Simon …

Allison Craig typically produces one of the best submissions for Titmouse's 5 Second Day, and this year is no exception. Here's her short (which was …

February 23, 2015

by

aaron

Mike Roush (Hidden Life of the Burrowing Owl) is one of the first Titmouse employees to post his 5 Second Day short, which was screened …
There are no comments yet, add one below.