Dick Figures The Movie Scales iTunes Charts
About a year and half ago, Ed Skudder came up with the idea to crowdfund a Dick Figures movie. I'd just been apart of a failed Kickstarter effort, but at Mondo we were watching the remarkable rise of Skudder's animated series. It was becoming a phenomenon, and we'd even started spotting some fan tattoos. So we all quickly got behind Ed's plan, and by mid-summer we'd all set the Kickstarter record for an animated project with over $300,000 in fan donations.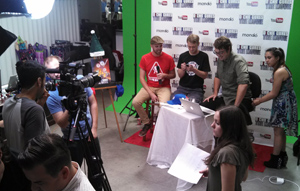 The audience had spoken and the feature film, titled Dick Figures The Movie, was now officially under way. Six Point Harness kicked in some additional funds, and the course was set to produce a full-length animated feature. Yesterday the 5,600 Kickstarter backers and the rest of the world got to see the result, and after only 24 hours the 73-minute feature is up to #16 on iTunes. This Flash-animated feature joins other notable Feature-length projects that utilized Adobe's software, including Sita Sings the Blues and Waltz With Bashir, both very innovative projects.
The distribution model for DFTM is also innovative, employing YouTube as the centerpiece of the strategy. We're releasing the full movie in chapters, once-per-week for 12 weeks, each time asking the audience "can't wait to see how it ends, go rent or buy here." And it's working. Just this morning, we hit #16 on the iTunes movie chart, eclipsing animated films with massive budgets like Epic and Despicable Me. Huge thanks to all of the Kickstarter backers and to everyone who is now renting or buying on iTunes, Google Play, Amazon and our own site mondomedia.com. Here's the trailer, and you can also rent the movie right here on the site!
Yekra Player
Yekra is a revolutionary new distribution network for feature films.
"Dick Figures The Movie" tells the story of Red and Blue, best friends turned enemies, who hunt for The Great Sword of Destiny in order to save the world… and their friendship.
There are no comments yet, add one below.