January 29, 2015
by
aaron
Mondo Media Series Headed To Fusion TV Tonight
Deep Space 69, Dick Figures, Gundarr and Kung Fu Karl are all headed to TV, starting tonight at 10:30pm. They're all part of new Fusion sketch series produced by Mondo Media called Like, Share, Die. I'm Exec Producing along with Josh Faure-Brac, who also serves at the head-writer and regular voice actor. In tonight's premiere on Fusion, you'll be treated to an all-new episode of Deep Space 69, which is sandwiched in between a bunch of topical sketches like this one below. It was animated by Lowbrow (the team behind Kung Fu Karl), while the vast majority of the series is produced at Six Point Harness. Tune in tonight!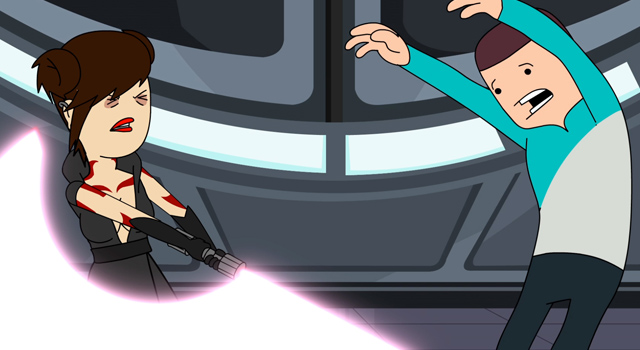 Related Posts
Six Point Harness and Klomp! recently teamed up to produce a new digital series pilot for SpindoTV, the YouTube channel from toy giant Spin Master. …

Circus tricks are harmless entertainment for the human race. Or are they? Here's the latest Cyanide & Happiness Short, which was animated at Lowbrow Studios.

January 23, 2015

by

aaron

The Don't Feed The Humans 4-parter episode is almost complete, with today's launch of part 2. Will the humans escape their captors – will Tom …

December 11, 2014

by

aaron

LA-based comedian Deepak Sethi, who has writing credits on Family Guy and Brickleberry, created this new animated Mondo series titled Dee Tremendous. Its about an …
There are no comments yet, add one below.