Tennessee Tuxedo Suits Up For Trix Web Series
Tennessee Tuxedo, a 1960s animated series, has returned on the branded entertainment channel sillychannel.com, which is sponsored by Trix. As you may know, Trix is owned by General Mills, who long ago sponsored the Tennesse Tuxedo show, which was produced by TTV and Gamma Productions in Mexico. This new series of shorts is being produced out of Chuck Gammage Animation. The series was developed and produced by Cartoon Lagoon Studios.

CREDITS
Directed by Pat Giles
Designs by Pat Giles and Manny Galan (and Mike Geiger)
Written by Jake Fleischer
Storyboards by Brad Rodriguez
Animation Direction and Production by Chuck Gammage
Voices by Chris Phillips, Robb Pruitt and Ashley Albert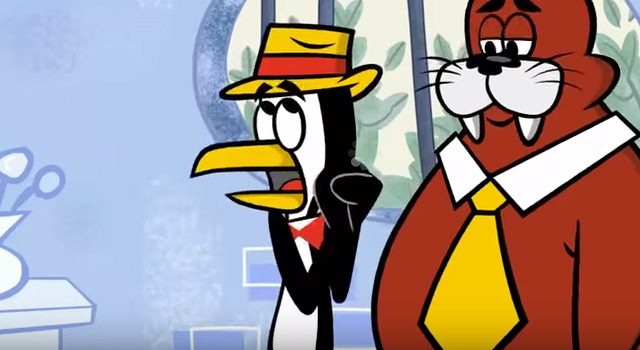 Related Posts
Jake Clark, an animator working out of Titmouse's Vancouver shop, produced this fun, Flash-animated short for the 2015 5 Second Day. It's titled Techno Pond:

January 15, 2015

by

aaron

Check out this new clip from the new Niko and the Sword of Light series. Its "a fantasy adventure series for kids ages 6-11 that …

December 11, 2014

by

aaron

LA-based comedian Deepak Sethi, who has writing credits on Family Guy and Brickleberry, created this new animated Mondo series titled Dee Tremendous. Its about an …

October 20, 2014

by

aaron

A new hit series is emerging on Mondo Media's YouTube channel, titled Don't Feed The Humans. The third episode arrived this week, written by series …
There are no comments yet, add one below.