About Cold Hard Flash
Welcome to Cold Hard Flash, a news and entertainment source focusing on TV series, feature films and online shorts being produced with Adobe's Flash software. Only 5 years ago, there were no more than 5 Flash-animated shows airing on TV. Today, that number is closer to 50. Beyond TV, the web is now full of independent animators making a living solely off their original series work.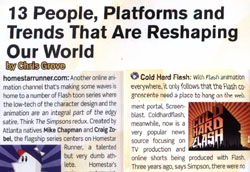 Cold Hard Flash was recently listed in Animation Magazine's 13 People, Platforms and Trends That Our Reshaping Our World.
Your input to Cold Hard Flash is invaluable, and story ideas are often generated from emails and comments we have received on the site. Please forward any thoughts to the team from the contact page.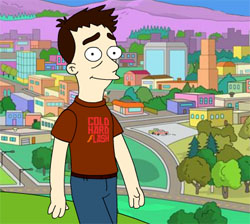 Aaron Simpson, the founder of ColdHardFlash.com and Lineboil.com, is an Emmy-nominated Producer of Coconut Fred's Fruit Salad Island, a Flash-animated series for Kids'WB! In addition, at Warner Bros., he produced over a dozen development shorts and developed Johnny Test for the 2005-2006 season.Prior to Warner Bros., Simpson was Senior Producer of Original Content at Sony, where he helped architect a forward-thinking entertainment portal, Screenblast. Simpson has also held the position of Vice President, Animation at JibJab Media. Aaron currently serves as head of Animation and Business Development at Mondo Media.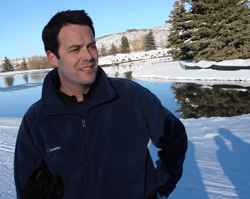 In 2005, Aaron was a judge at KOCCA's Star Project Awards in Seoul, and he has presented at SXSW, Flashforward and FITC Hollywood. In September 2006, he was featured in the Flash Tenth Anniversary online video presentation at adobe.com. He is also the Chairman of the Board of the Platform International Animation Festival, the largest animation festival in the United States. He is also holds the records for the World's Biggest Internet Link.
Cold Hard Flash is maintained by industry professionals, and we are in no way affiliated or officially connected with any studio, company or organization. Original content ©2004-2008 Cold Hard Flash. All other copyrights belong to their respective owners. In no case does Cold Hard Flash make any explicit or implicit claim to any of these rights.