Advertising
Cold Hard Flash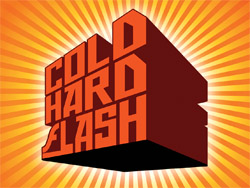 features a variety of animation news, including the latest TV series pick-ups, festival news and broadband network activities. Over our 4+ years, CHF has released nearly 70 exclusive interviews with industry leaders, including artists like The Chapman Brothers, creators of Homestar Runner. CHF has also become a hotspot to find up-and-coming artists and new series ideas.
RATES
728×90 – Leaderboard, sitewide
$400/week
300×250 – Large Box, blog only
$350/week
160×600 – Skyscraper, blog only
$100/week
125×125 – Small Box, blog only
$50/week
300×100 – Studio Directory Right Column Only
$20/week
See our advertising specs for more details.
We offer discounts for campaigns longer than 1 month. If you're interested in further details about our audience, please contact page us.
INSERTION ORDERS
If you're ready to submit your advertising order, click here to download…
The Advertising Insertion Order Form (pdf)
If you have any questions regarding ad sales for Cold Hard Flash, please get in touch via the contact page.