The Flash Animation 10 – Best Animated
Flash animators began experimenting with "paperless" animation over 10 years ago.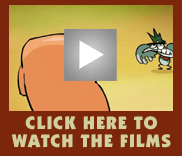 MyToons.com, "the Premiere Online Animation Community", we celebrate these films with an online film festival – The Flash Animation 10: Best Animated. Want to know which film took first prize and an Adobe Master Collection valued at US$2,499? Click here to watch the 10 films and find out.
The 10 films featured here were selected by a panel of animation industry rock stars, few of whom are Flash users.
here to find out who made the list.
The five judges who shared their time in judging the Flash Animation 10 come from a variety of backgrounds and physical locales. Many thanks to these fine folks, who lent their time and keen eyes to this event. Let's meet them:

MEGAN O'NEILL
Megan O'Neill is the VP of Acquisitions & Development for Atom, a MTV Networks website of original series, animations and shorts.

Pixar Animation Studios in 1997 where he animated on A Bug's Life, Toy Story 2, Monsters, Inc, Finding Nemo, The Incredibles and most recently, Ratatouille. The characters he has worked on include Mike Wazowski from Monsters, Gill, from Finding Nemo and Edna Mode, the costume designer in The Incredibles. Recently, he has supervised animation for Pixar's new short film to be released with WALL•E. He is currently working on Toy Story 3. Prior to his work at Pixar, Andrew worked in the Looney Tunes division of Warner Brothers. He is a contributing teacher to Animation Mentor and a founding member of Spline Doctors, a blog/podcast dedicated to animation education.
WARD JENKINS
Ward is an animator and director currently living in Portland, Oregon with his wife and two kids. Formerly from Atlanta, Ward has worked at several award-winning studios such as LAIKA/house and Primal Screen, putting his unique style into various broadcast elements and commercials for the past 12 years. When not at work, Ward is a sought-after designer, illustrator and graffiti writer, evident on his blog, The Ward-O-Matic, where he writes about "art, animation and anything aesthetically pleasing to the eye." Jenkins also contributes to the highly successful art, illustration, and comics blog, Drawn!
CHRIS FINNEGAN
Chris Finnegan is one of the founders of Screen Novelties, a Los Angeles studio that specializes in stop-motion animation.

Chowder and Flapjack. They are also developing their own television and feature projects.
RYAN HONEY
Ryan Honey is one of the owners of Buck and the creative director of the Los Angeles office. Founded in 2003, Buck is an award winning, multi-faceted design production company.

Vancouver Film School.