#8 – Akumi, Conspiracy & Capture
by Alan Smithee
AN INTERVIEW WITH ALAN SMITHEE
Alan Smithee, the creator and director of the Akumi series, said on his own message boards that he wanted to "shock people."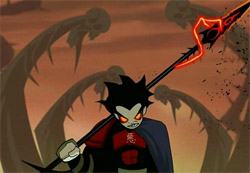 did just that, but he also dropped the jaws of our Flash Animation 10 judges. Megan O'Neill, the VP of Acquisitions & Development at Atom, said the film "creates a world through imagery that completely drew me in."
Smithee produced all three episodes with a cadre of industry friends, artists like Dave Johnson, Dustin Remmel, ALAN SMITHEE and Tyree Dillihay. We pass along our congratulations to then entire team, but Smithee shared his insights on the project below.
AARON SIMPSON: Where did the inspiration for the Akumi series come from?
ALAN SMITHEE: The name derived from two sources 1) a martial arts movie my friend showed me called Azumi and 2) a character I liked from Street Fighter 2 called Akuma.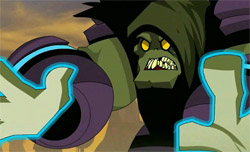 Soybean. I made many concepts before she got the look she has. Akumi is a result of my 'Soybean style' taken to the next level of production efficiency. Soybean was fun but took way too much work to complete.
I had always loved Dungeons & Dragons, swords, and magic but I also liked big guns, aliens and robots. So I wanted to incorporate both. Akumi is a story and world that allowed me to take those 2 things plus my love of sexy female characters and animate away.
AARON: What are you favorite sci-fi movies, TV series and comics?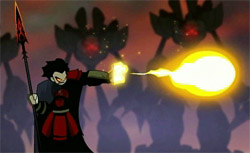 Greg Capullo's work (the Spawn series artist). Simon Bisley is another comic artist/painter that caught my eye. I have really enjoyed his graphic novels, in particular his fantasy adventure series Sláine.
TV shows like Robotech we're my first taste of anime before Akira. Before I started watching anime, I didn't know animation could be have blood and sex.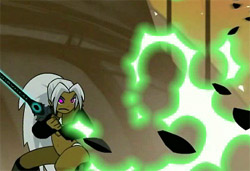 Fooly Cooly, Dead Leaves and Ninja Scroll. They showed me how to create high-impact, energetic action scenes with keyframes and FX. Beyond that, the characters and animation from Capcom and Squaresoft games are things I always look to for more ideas. Tyree Dillihay helped me push my animation shots to the next level with his dynamic boarding.
AARON: Did you find Flash limiting in any way?
ALAN: Flash is the reason I've animated the way I have. Without it I would not have had the patience to take it to the level I did. Flash is the perfect animating tool for me.