#9 – Carte de Visite
by Paul O'Flanagan
AN INTERVIEW WITH PAUL O'FLANAGAN
Boulder Media is probably best known for its production work on shows like Foster's Home For Imaginary Friends and El Tigre, perhaps the two best animated Flash series on TV.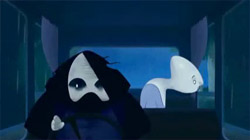 Paul O'Flanagan. As with their series work, the Boulder team has managed to push the software in directions never known possible. More importantly, they make the viewer forget about software and technology altogether, and focus on gorgeous artwork, fluid movement and subtle, touching performances. Helping on that front was David O'Sullivan, who oversaw the art direction and a crack team of animators, including Robert Etchingham, Peter Slattery, Sue Pendred, Roger Grogan, Rob Byrne, Robert Cullen, Ed Smith and Chris Lynch.
The project was created with funding from the Irish Film Board. I'd like to thank them and Boulder Media for the assistance in pulling this interview and online screening together.
AARON SIMPSON: What is a carte de visite?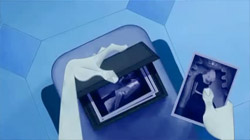 Galway Film Festival in Ireland, so I was there for that. I also saw it at the LIAF (London International Animation Festival) which was only a small hop across the water.
AARON: How do you compare directing Carte de Visite to the experience of working on a TV series like Foster's Home For Imaginary Friends?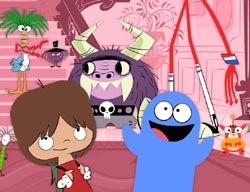 Beauty Now. I've learned a few more lessons from that short and I'm looking forward to making another film where I can further myself as a shorts director. So I suppose it's all just a series of small progressions.
AARON: Explain how your team received funding from the Irish Film Board.