#7 – Congo Windfall
by Bernard Derriman
AN INTERVIEW WITH BERNARD DERRIMAN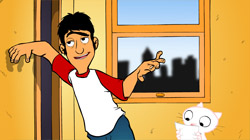 Bernard Derriman and Arj Barker's online, 10-episode series Arj and Poopy has enjoyed a large online fan base and numerous awards, including the 2006 internet trophy at Annecy.
The first 9 episodes featured Arj, an animated version of Arj Barker, and his cat Poopy who speaks in farts. But then episode 10 surprised us with a new character – the neighbor's dog Bouncy, who is voiced by Johnny Brennan who plays Mort Goldman on Family Guy. As with all Arj and Poopy episodes, Congo Windfall is filled with Derriman's lively character animation, a skill he honed at Disney Toon Studios in Australia. Bouncy's musical performance is one of the most engaging sequences of animation to ever crisscross the information superhighway. I challenge you to watch Bouncy strut his stuff without a smile on your face.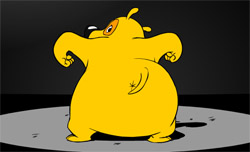 Flight of the Concords, but to learn more about Bernard's latest adventures, read on…
AARON: Had you and Arj always imagined Bouncy as part of the Arj and Poopy world?
BERNARD: No. Arj and Poopy has been a pretty organic thing, and it's been constantly growing. After a bunch of shorts with just Arj and Poopy, we were keen to expand their world a little. Arj and Poopy are very sweet characters, so I thought it would be fun to introduce a character with a little more bite to shake things up a bit.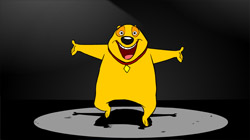 Johnny Brennan for a long time now, and he was a big inspiration for the character, so once he came on board Bouncy was born.
AARON: How did the concept for the Congo Windfall episode come about?
BERNARD: I planned for the next episode to showcase Bouncy, and I wanted to give him a really big entrance. I thought it would be fun to have a big dream sequence in front of a massive crowd, and in doing so show a bit of his character – very loud and full of himself. Then I reverse-engineered a regular Arj and Poopy episode before Bouncy's big entrance. I used Arj's joke about the spam because it was short and sweet, and perfect to open the episode like any other Arj and Poopy.
AARON: When did you create the Bouncy introduction video?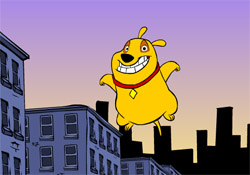 Flashforward Film Festival last year?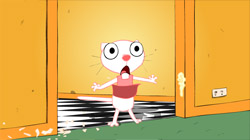 Adam Phillips always submits stuff to Flashforward and he's the one who told me about it. And when you go to his house you keep tripping over all these cool rubber arrows. I was always missing the submission deadlines, and Congo Windfall was the first time I got around to getting something in on time.
AARON: Has the Arj and Poopy series come to a close?
BERNARD: No definitely not! It's just I'm really busy and I don't have the time to work on them like I used to. It was cool at Disney, because I'd work 9 to 5 in there and then at home I'd have time to do A+P. But now I work from home I'm animating on other stuff 24/7, and I could always be doing more, so there hasn't been any time left for it.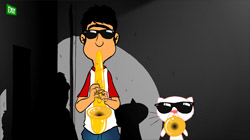 Arj and Poopy t-shirts and Arj and I are always bouncing around ideas for new episodes, so the series is still alive!
And work has finally begun on a new episode, so stay tuned…
AARON: You mentioned in our 2005 interview that you might create an Arj and Poopy DVD at some point. Is this still in your plans?
BERNARD: Probably not as I imagined it in 2005. Another thing I'm doing at the moment is developing the show as a half hour series, putting together a bible, etc. Making it a series has always been our goal. So whether they'll turn up as an extra or a main feature, I hope the current episodes will make it to DVD at some stage, in some shape or form. I just need to do a few more…
AARON: What are you currently working on?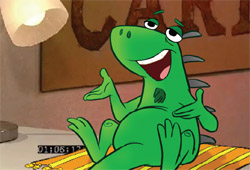 Big Green Rabbit. It's a combination of animation and live action. We've just wrapped season 1 and there are a few more series in the pipeline. It's currently screening on Rocky Mountain PBS in Colorado and they're hoping to roll it out across the country soon. It's a fantastic show and has been just awesome to work on – animating to kid's songs and animating characters interacting with live action. I also designed the main live action character, Charlie, the Big Green Rabbit himself. Each episode has new characters and new challenges, so it's been a lot of fun to work on.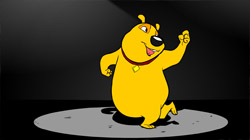 Kenny. It was a huge hit down here and I think it's just opened in a small amount of cinemas in the States too. The show is live action but there's a little bit of animation in it. I directed and did the character animation while Adam did the backgrounds, effects and compositing. It was awesome working with Adam and we're hoping to do a lot more together in the future.
AARON: Readers, don't miss the 2-part CHF interview with Derriman from 2005.