#2 – Fertilizer Soup
by Sylvain Marc
AN INTERVIEW WITH SYLVAIN MARC
Last year we featured Sylvain Marc's 1-minute animated short Fertilizer Soup (La soupe à l'engrais).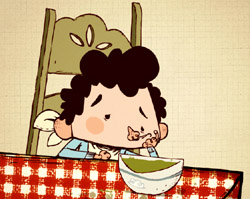 Cocotte Minute, the exceptional opening film at the 2006 Annecy International Animated Film Festival. Each year, students at the French animation school Gobelins create this opening film, and almost all of the recent films have been produced in glorious 3D. In the interview below, we learn that Sylvain, a co-director on the film, produced the opening title sequence for the film in Flash. Let's check in with Sylvain and learn more about his short, his experiences at Gobelins and his recent exploits at Cartoon Network.
AARON SIMPSON: Is this short autobiographical, or at least semi-autobiographical?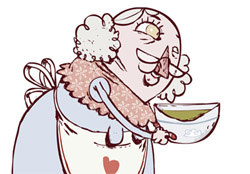 Canal J between animation schools. They gave us the theme and we had 30 days to do a one minute short about it. So it was also an opportunity for the schools to do a limited animation exercise. Then the channel selected the ones they wanted to put on air. Mine eventually was put on air!
AARON: Who else helped you with the film?
SYLVAIN: There was the lecturer (professional who comes to work with students, not a teacher) who supervised the whole exercise, my good friend Sylvain Mazas who handled the music, one of our teacher's son for the voice of the kid, but apart from that, I did it by myself, struggling to deliver it on time.