#5 – Fuggy Fuggy 2
by The Brothers McLeod
AN INTERVIEW WITH MYLES AND GREG MCLEOD
Back in 2006, Myles and Greg McLeod created the initial episode of Fuggy Fuggy, which was hastily snapped up by MTV.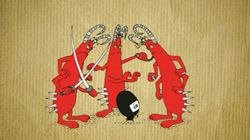 series? feature?).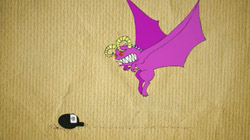 thorough interview with Greg and Myles on the topic of Fuggy Fuggy 2 back in early 2007, but much has happened since, so we sat down again with the dynamic McLeod duo…
AARON SIMPSON: Congrats on launching the new website. How long has that been in the works?
MCLEOD BROTHERS: It's been in construction for about a year. Barney at Spark & Zoom Productions did a great job on it. It took so long because we were so busy last year and it kept getting moved down the list of priorities. We've still got a few more films to put up but we are very pleased with it. We wanted visitors to have an easier time finding and watching the films we've made than the last website. We also wanted a blog where we could put up our thoughts and post events and news in one place. Hopefully we'll be adding comment functions on the films eventually too.
AARON: Do the two main characters in Fuggy Fuggy have names?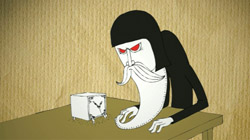 Tracy Bartlett loose on the animation?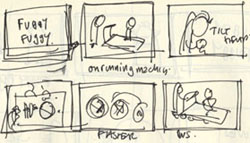 on our blog. We do create animatics when we're doing animation for clients as it helps smooth the way through the process, but sometimes we like to skip this step in our own work to keep things more instinctive.
AARON: Have either of you practiced a form of martial art?
GREG: I did Judo and Karate as a child but got bored and moved onto playing the drums. Not sure if that's classed as a martial art though.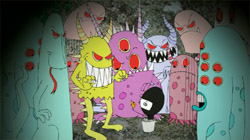 Pedro & Frankensheep.
AARON: ….which recently premiered on TV. Are there more episodes planned?
GREG: That's all top secret, but watch this space. However Pedro did sneak into the latest episode of Doctor Who – it was on telly in the background in one of the scenes.
MYLES: As the voice of Frankensheep, I was listening to the Doctor Who episode going… Wahoo! I'm on Doctor Who!
AARON: You guys also supplied the music for Pedro & Frankensheep. How is that you've cultivated both careers? Animation and music?